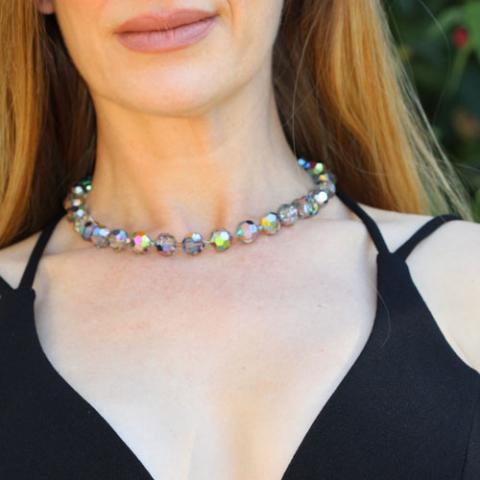 - March 4, 2022 /PressCable/ —
The store's latest launch adds to its wide selection of earrings, bracelets, and necklaces—all of which are handcrafted by company owner and jewelry designer Amy Masor.
The updated line includes a range of one-of-a-kind jewelry pieces, each embellished with a unique assortment of Swarovski crystals. More details can be found at https://amasorjewelry.com/product-category/swarovski-crystals.
In an effort to create a more accessible version of the diamond, Austrian-born jeweler Daniel Swarovski created a crystal cutting machine that was used to produce precisely-cut glass crystals. Since its establishment in 1895, the Swarovski brand continues to be praised across the globe for the cut and brilliance of its man-made crystals.
Amasor Jewelry's collection includes the Vitrail Vintage Swarovski Crystal Necklace—an elegant choker-length statement piece adorned with large sparkling crystals. Customers can also purchase the shop's Exquisite Swarovski Crystal Necklace, which features a combination of alternating neutral colored round and cosmic shaped crystal beads. More details can be found at https://amasorjewelry.com/product/exquisite-swarovski-crystal-necklace
Other options include the Cosmic Jet Necklace, which is made from a variety of black Cosmic Jet and bicone Swarovski crystal beads. The multi-functional piece is designed to be worn for both casual and formal occasions.
The Cosmic Jet Necklace is available to purchase at https://amasorjewelry.com/product/cosmic-jet-necklace
Amasor Jewelry also offers a range of bracelets, including the popular Black and Silver Swarovski Crystal Bracelet. The simple piece features three different types of black crystals that are wire-wrapped with sterling silver chain links.
Those looking for a bolder style can opt for the store's Elegant Beaded Swarovski Crystal Bracelet, which is decorated with black and bronze-colored crystals that have been carefully sewn into an underside of square beads. Interested parties can find additional information at https://amasorjewelry.com/product/elegant-beaded-swarovski-crystal-bracelet.
Speaking of her design process, Amy Masor states: "I make all the pieces myself and my work is meticulous and crafted with great consciousness as to color, weight, and balance. I search for unique quality beads, stones, and findings and this collection is the palette from which I draw when designing my pieces."
Amasor Jewelry offers complimentary shipping on all orders. Individuals with questions or concerns about a product can call the retailer's friendly customer support team at (844) 969-9919.
I
Release ID: 89066095