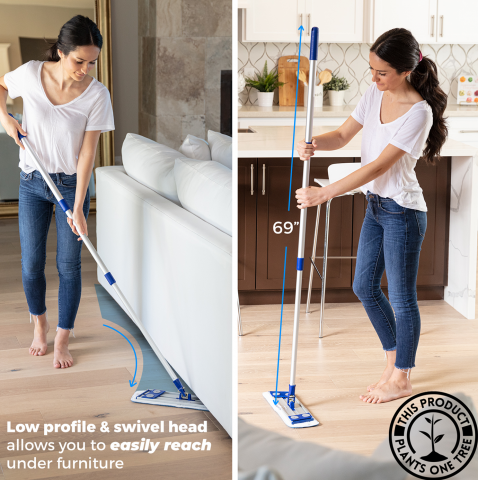 - December 11, 2020 /PressCable/ —
Mopping has received a lot of attention as a very physically demanding cleaning task. It can be very hard on the back and shoulders and care needs to be taken while mopping to ensure no injuries are sustained. A very important factor that has a high association with injury sustained from mopping is the height of the mop handle.
Having a mop handle that is too short causes the user to bend their back and neck therefore increasing the chance of injury. According to a study titled, "Effects of mop handle height on shoulder muscle activity during floor mopping" done by the National Center for Biotechnology Information (NCBI), the optimal height of a mop handle in order to reduce muscle demand is a height adjustment between chin and shoulder level.
The problem with most mops is the handles are not height adjustable which causes slouching and the associated issues that come with it as described above. What makes the situation worse is if the mop being used is a cotton mop that weighs quite a lot when wet, it amplifies everything thereby increasing the chance of injury even more due to the weight being pushed and pulled in a horrible position.
The solution is twofold, having an adjustable height mop handle in addition to using a lighter type of mop head such as a microfiber mop.
"We understand the importance of being able to adjust the mop handle height which is why we made sure that our handle's height was completely fully adjustable and that's exactly what it is, it can be adjusted in mm increments up to 170 cm." Said Brian, the creator of the Dredge microfiber mop. "We also chose the more expensive option of aluminum for the handle to make the mop as light as possible."
Temples Pride was founded in 2015 with a mission to provide an environmentally friendly & effective microfiber floor mop. To further support their mission, they are also dedicated to reducing their environmental impact by helping to protect critical forest habitat. For every mop that they sell, they plant 1 tree.
More information about Temples Pride and the Dredge microfiber mop is available on their website.
https://www.amazon.com/Professional-Microfiber-Resistant-revolutionize-Experience/dp/B01AZLM64G
Release ID: 88988752