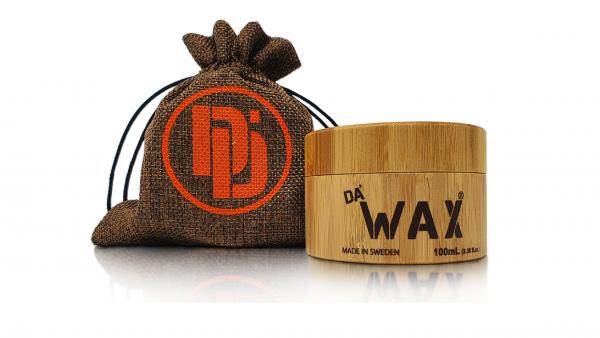 - July 20, 2021 /PressCable/ —
Strong Hold Matte Hair Wax for Men – Cruelty Free Biodegradable Packaging Launched
Da Dude is a professional hair styling product line based in Sweden. It has updated its Da Wax strong hold men's hair wax. The product comes in a bamboo tub inside of a biodegradable hessian bag, ideal for giving as a gift. This strong hair wax for men is not available in high street stores but can be found on Amazon and eBay.
The updated hair wax product comes in an environment friendly packaging. Both the packing and gift bag are biodegradable. It also contains no parabens, sulfates, or silicones. The product is also cruelty-free and has never used animals for testing.
Da Wax from Da Dude does not have any strong or off-putting perfumes. The product has a gentle scent that is pleasant to the senses. The beeswax-based formula gives users with a natural matte finish to their hair. The beeswax also provides a long-lasting firm hold that is water-resistant. Yet, it is still simple to wash out with warm water.
Da Wax is a concentrated wax product. It lasts up to three times longer than many other products, including other waxes. Many customers find that a tub of Da Wax can last them for up to six months with proper and regular use.
A high-quality hair wax product should be able to restyle a user's hair on its own. No need to remove or add more product. This is a benefit that is well-known among hairstylists and users. But, this option is only achievable when using premium wax products. With most hair gels or sprays, total removal and reapplication is necessary. You need to do this so you can affect any form of a style change.
Right now Da Wax only ships from Amazon, though it is also available from the younghair.net website. This is a product from Sweden and then shipped to Amazon fulfillment centers. Hence, clients receive their product with as little wait as possible after ordering. Other popular products from the same company are available also on Amazon. They include Da'Beard Oil, Da'Power Powder, and Da'Salt Water Spray. Da'Wax is a strong hold hair wax for men and recently launched in the USA on the platform of Amazon.
One satisfied client said, "I have bought this product twice, and I think it's genuinely the best hair product I've ever used. I've had two tubs since May last year, and I'm still on the second tub now. Just buy this, you won't regret it. Don't hesitate."
You can watch this video to see how to apply hair wax for best results.
Release ID: 89037106