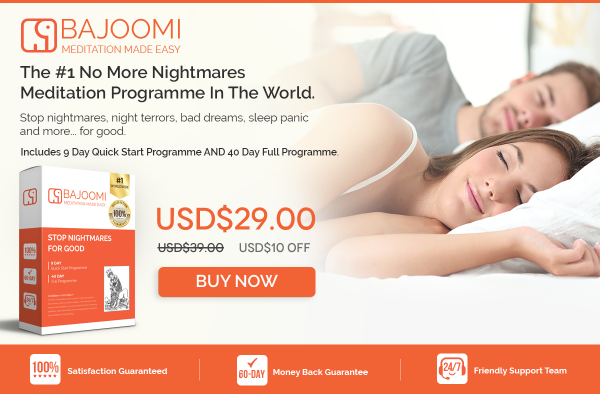 - November 19, 2019 /PressCable/ —
A new meditation programme has been launched called "The No More Nightmares" programme, aimed at stopping nightmares and improving sleep. Interested parties can start immediately, and there is a 100% satisfaction guarantee.
For more information please visit the website here: https://bajoomi.teachable.com/p/the-no-more-nightmares-meditation-programme
The newly launched programme is guided by Aly Dunne, an Irish born yogini who has been practicing meditation for 40 years. In addition to this, she has been teaching it for over 17 years.
It is a home meditation programme that helps to improve sleep and reduce nightmares to provide a more peaceful and relaxing night.
The No More Nightmares Programme has been specially designed to help stop nightmares for good. It doesn't require any special equipment, and everything the customer needs is included.
Furthermore, it is easy for customers to do at their own home, or wherever they can find time or space for a moment of quiet. In less than 10 minutes each day, customers will be able to practice the meditation sessions to help improve their nightly sleep.
While the programme has been designed to combat nightmares and night terrors, it also helps with night fears, sleep panic, and all types of fearful and bad dreams.
The programme is designed to be approachable for all experience levels, and in addition to this, there is a dedicated support team on hand to help with any questions or concerns.
The team behind the programme states: "This best selling, powerful little No More Nightmares Meditation Programme has been specially designed to help stop nightmares for good and does not require any other equipment or purchases. Everything you need is here and it is made to be done at home (or wherever you can be quiet) for less than 10 minutes each day."
They add: "We work with the best meditation teachers and artists in the world using a tried and tested meditation system called sanskrit mantra (used successfully for over 3,000 years by millions of people all over the world) that simply helps you focus on the things you want to change, do and be."
The programme is ready to start immediately after purchase, and is completely self paced online.
Those wishing to find out more can visit the website on the link provided above.
Release ID: 88934816