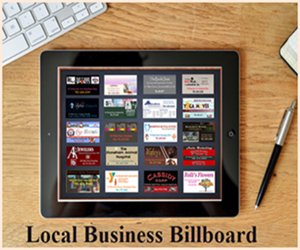 - July 10, 2015 /PressCable/ —
Small businesses in Stoneham Massachusetts can now get the billboard advertising and exposure normally limited to large companies with huge advertising budgets thanks to a new very affordable local business billboard.
Local advertising and marketing consultant Robert Jackson says he launched the local business billboard because he wanted to help local Stoneham businesses increase their market share over the larger companies with their huge advertising spends.
Jackson says helping small Stoneham businesses is a way to increase the money flowing back into the area because a much higher percentage of the money spent with local independent businesses stays in the local area.
Studies by national research firm Civic Economics show a purchase with a small local business returns more than 3 times the money to a local economy than a purchase with a large chain or franchise. These studies show on average 48 percent of each purchase at a local independent business is recirculated locally compared to less than 14 percent of a purchase from a chain store.
A study by the Institute For Local Self Reliance mirrored the Civic Economics study revealing that for every $100 spent at a local independent store generated $45 of secondary local spending compared to the $14 of secondary local spending created with $100 spent at a big box chain store.
Another Civic Economics study showed local merchants are more efficient with resources producing a much higher return for each square foot of retail space they use with local independent businesses generating twice the sales and quadruple the local economy return per square foot as large chain stores.
Jackson says with the environment being such a big issue doing business locally makes good sense on an environmental and a local financial level. Jackson says it boils down to more local jobs and a smaller environmental footprint. Compare that to buying remotely which creates almost no local benefit…just a few minutes work for a delivery person.
Jackson says the biggest advantages to Stoneham businesses of the local business billboard are the most practical ones…low pricing and large exposure. Because they share their space with other local non-competitive businesses they get large billboard advertising at a fraction of the investment.
Advertising details are available at http://localbusiness.instonehammass.com.
Release ID: 86449