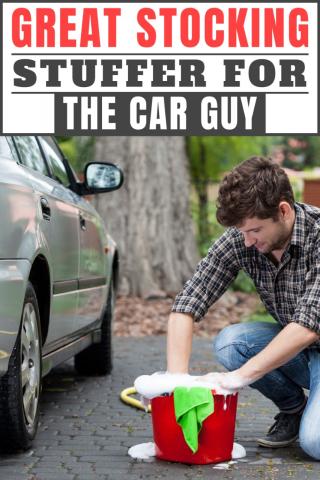 - November 22, 2021 /PressCable/ —
While the holidays can be a great time to kick back and enjoy time with family and friends, many people find the stress leading up to the holidays overwhelming at times. Completing all the tasks like decorating the house and planning the feast can prove to be very stressful in preparation for the holiday season. In addition to that, finding the right gifts for everyone on the gift list, especially for the special men in people's lives, can be extra challenging, especially if it is a gift for men who have everything they need.
"We don't want people to worry about finding a great gift", says Tony from The Man Sham, "we are confident we can help with that!". The handy Man Sham Chamois Cloth was created to be a useful piece of equipment in anyone's car detailing basket and has proven to be a great gift, again and again, perfectly suited to aid in keeping a vehicle's finish spotless by drying excess water after a wash. The Man Sham is an innovative PVA chamois that is designed to absorb many times its weight in water, making drying an easy job.
"We are waging a war against water spots," says Tony from The Man Sham. "People don't realize how important it is to dry their vehicle after washing it. Just letting the water evaporate after washing a vehicle, rather than drying it, could easily result in water spots showing up". He went on to explain, "Water spots are minerals in the water that are left behind after the water evaporates and those minerals can be tough to get rid of. It is easiest to just prevent them in the first place, by using The Man Sham chamois cloth for cars to dry your vehicle after you have washed it"
See The Man Sham in action here: https://youtu.be/fNGZPHgphQE.
The Man Sham is made from a special material that easily soaks up water. Its sponge-like abilities also make it very versatile, such as soaking up that coffee spill in rush hour traffic. It can be used It is lint-free so there will be no lint specks left behind either.
The Man Sham is reusable and will last for many drying sessions. When the shammy cloth is saturated just wring it out and keep on drying. When drying is complete, place it back in its storage container a little damp and it will be ready to go next time.
The Man Sham is available on Amazon here: https://www.amazon.com/dp/B00KQ81M94/
Release ID: 89053828