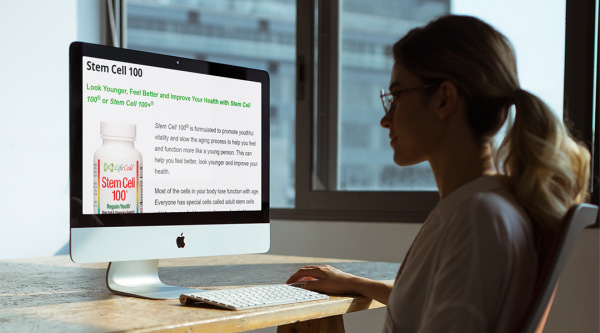 - March 19, 2021 /PressCable/ —
Colorado-based company Life Code launches an improved nutraceutical based on new studies that have indicated that stabilizing stem cells can slow down the aging process.
More information can be found at https://store.lifecoderx.com/collections/stem-cell-supplements
The newly launched product, Stem Cell 100+, was formulated by leading anti-aging researcher Dr. Villeponteau. It was developed with numerous genetic studies supporting claims that its ingredients have a significant impact on the aging process.
Dr. Villeponteau has concluded that the tips of our chromosomes, known as telomere, become damaged as we age. As this damage increases, issues related to aging such as memory and hearing loss become more significant. The supplement supports the telomere and stimulates stem cells. New research conducted on both animal and human candidates supports the use of the ingredients in Stem Cell 100+.
Stem Cell 100+ is a more powerful supplement than the original Stem Cell 100. Not only does it support the telomere, but it also works against the negative physical impact of stress.
The supplement also helps keep inflammation under control. It is recommended for the use of people over the age of 21. Those in their 20s and 30s will find their stamina increase during exercise and older users will gain a more youthful appearance and higher energy levels.
Life Code offers other supplements that are specific to individual needs. Along with Stem Cell 100+ and Stem Cell 100, Memex is tailored to promote memory and focus, as supported by peer reviewed articles. Epimax encourages skin rejuvenation and helps with abdominal issues. Telomax promotes a healthy cardiovascular system and balances hormones.
The supplements available are fully researched and are made up of all-natural ingredients that promote stem cell rejuvenation. Life Code offers combinations of supplements at a discounted price. Stem Cell 100, Stem Cell 100+ and Memax 100+ are forms of the same nutraceutical, so only one should be taken. Epimax and Telomax can be added to one of the three main supplements.
As well as offering a variety of supplements on its site, Life Code provides a free subscription to read about the latest studies taking place on anti-aging and stem cell advances in the scientific community.
A satisfied customer states, "My energy levels are through the roof. I am in my 60s and still play tennis 3 or 4 times a week with guys half my age. Also, the company is first rate and always available to answer questions."
Those interested can find out more at https://lifecoderx.com
Release ID: 89001823