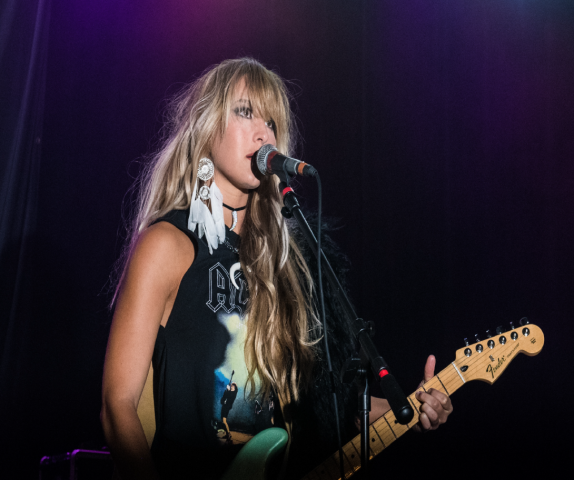 - April 24, 2020 /PressCable/ —
Station Avenue is working with recording artist, social influencer and youth brand ambassador CC Miles to leverage integrated digital marketing, brand integration and global awareness campaigns.
PHILADELPHIA, PA – Station Avenue Productions, a leading event production, entertainment brand development, music industry insider and talent brand marketing house, has partnered with emerging recording artist, social media influencer and youth fashion, music and travel brand ambassador CC Miles to create and deploy creative influencer marketing, global brand integration and entertainment development.
"CC Miles, is the breath of fresh air the music business is looking for – a confident and sensitive singer/songwriter who is unafraid to explore all the musical journeys of her creative heart," reports CJ Di Roma, CEO, Station Avenue Productions, "CC Miles is a true musical brand who grew into the digital age effortlessly and is able to present her music to the social world with ease at a time when most artists are struggling to find their voice online. It's an honor and privilege to be part of the team taking CC to the next level. Her music is evolving and we are the team she has chosen to help identify, express and deliver the messaging."
Building on the success of Station Avenue's nearly 45 years of entertainment industry expertise, the veteran entertainment industry firm is working with CC Miles to leverage the power of communications strategies, media relations, strategic alliances and event marketing.
"Artist development is now branding and marketing, building a better brand and working to deliver that message to the public while maintaining the artist's integrity and respecting the art form," Di Roma shares. "Station Avenue's creative team is set to deliver with brand imaging, new musical production, social engagement, brand partnerships and online content to deliver CC to the global masses."
When asked of her experience with Station Avenue, CC exclaimed, "Working with CJ Di Roma and Station Ave has been amazing! The team is beyond responsive and excels at seizing opportunities even when given a short amount of time to do so. Our goals are aligned and it is clear how truly passionate the team is about the projects we are working on!"
About CC Miles:
At 18, recording artist and songwriter CC Miles, has released three albums in less than five years. CC engages her growing Instagram and YouTube followers with new releases and original music, while touring the country. By way of candid lyrics, relatable charm, and undeniable charisma, the singer songwriter, and multi-instrumentalist imparts a storytelling sensibility on impassioned and irresistible songs. Driven by her voice as a writer, she shines through each lyric inviting everyone into her world through her music. CC's music can be accessed on Spotify, YouTube, Apple Music, Play Music, Deezer, and iHeartRadio. CC Miles was born and raised in Medford Lakes, NJ. For more information, go visit www.ccmiles.com.
About Station Avenue: Station Avenue has experience in event production, talent buying, and working with major entertainment entities, venues and performers. With the focus of a global entertainment marketing and brand development company, Station Avenue leverages digital marketing and branding expertise and technology to better predict and improve the success of brand integration and influencer marketing campaigns. Station Avenue also implements a number of proven entertainment marketing strategies that connect entertainers and events directly to their targeted demographics, using creative processes, expertise in publicity, integrated marketing, paid ads, influencer campaigns, media coverage, branded products and more. Stellar service areas include, not limited to: Expert Consulting, Premier Talent (Influencers, Artists & Celebrities), PR & Publicity, Branding & Identity, Digital Marketing and Events & Touring.
For more information, visit Station Avenue at: https://www.stationave.com.
Release ID: 88950283