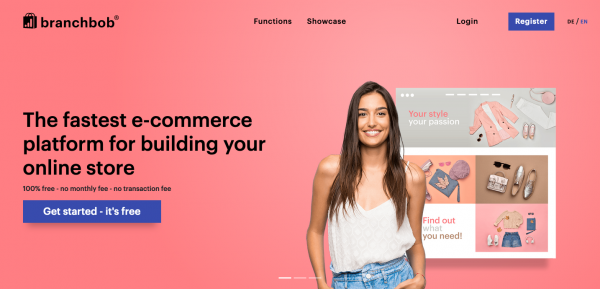 - April 1, 2020 /PressCable/ —
(Mannheim Germany, 30 March 2020) While online retailers are profiting from the current crisis, many stationary retailers are fighting for their existence. And branchbob® wants to help these stationary retailers in this tense phase and present prospects for the future.
"It is believed by many that the coronavirus crisis will change people's behavior in the long term— also and especially in the field of e-commerce. Retailers from the stationary retail sector who have failed to take action in recent years in response to the difficult economic situation now realize that the Internet is not a threat to their business model, but a huge opportunity," explains Marc Köhler, CEO of branchbob®.
Dennis Geiss, Head of Marketing, adds: "It is not about shop owners giving up their shop. But those who have been open to new sales channels and buyer groups using an online shop before the crisis are now in a much better position and will not suffer a complete loss of sales".
As an e-commerce platform, branchbob® aims to strengthen the retail trade. This is why the online shop solution provider is using the crisis associated with opening bans and curfews to turn around its own business model altogether. Instead of offering the platform for creating cloud-based online shops for monthly subscription and transaction fees as before, branchbob® is now free of charge without limitations: no one-time setup fees, no monthly recurring costs, and no turnover-dependent transaction fees.
In this way, branchbob® is not only setting an example in economically uncertain times but also aims to proactively drive forward the digitization of the retail trade to strengthen it in the long-term. "The goal of branchbob® is to make selling through the online shop as easy as possible. This is why branchbob® are not only relying on cloud technology but are also breaking down further barriers to access by making our platform available free of charge," says Dennis Geiss.
As the world's first provider of entirely free online shops based on cloud computing, branchbob® is not only a pioneer but also wants to set an example. "This is not a short-term marketing campaign, but a promise and statement," emphasizes CEO Köhler.
There are currently 4,000 retailers from Germany and abroad who are already using the fully comprehensive and self-explanatory shop system. In summer, branchbob® will also launch an App Store, where users can purchase additional features, which can also be developed by the community.
Right to the point
· branchbob® offers cloud-based online shops immediately and permanently free of charge—no ifs and buts
· This measure is intended to provide immediate assistance to the retail trade in the current coronavirus crisis, to point out prospective opportunities, and to strengthen it in the long-term.
· "It is believed by many that the coronavirus crisis will change people's behavior in the long-term," says CEO Marc Köhler.
About branchbob®
branchbob® is the first cloud-based online shop platform that offers professional online shops free of charge and without restrictions. branchbob® was founded in 2018 by Marc Köhler (CEO) and Dennis Geiss (CMO) and had since then opened the doors to online trading for thousands of retailers worldwide. The great success is not only due to the range of functions but also the simplicity of the modular system.
Neither programming skills nor a dedicated server is required to open an online shop with branchbob®. The set-up takes less than five minutes thanks to intuitive operation and optimized design templates. Users are entirely free to use their own domain and to choose the language, currency, and payment methods. The shop's appearance can be easily adapted and individualized to suit their corporate design.
By making the system highly transparent, the community can participate in the further development of branchbob® and offer additional features in the in-house App Store, which are then available to all users.
Create your free e-commerce website today.
Release ID: 88951885