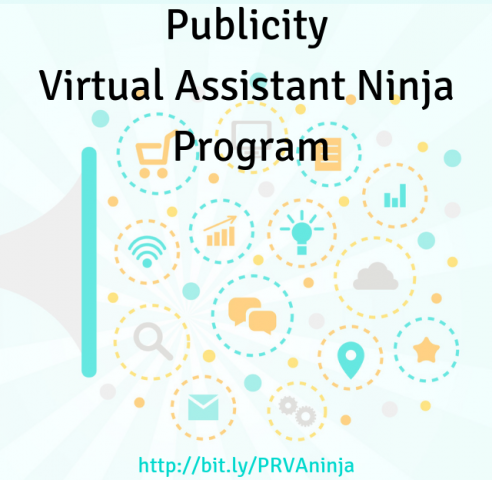 - December 12, 2018 /PressCable/ —
Just in time for the new year, comes a public relations training program that will give start-ups and small businesses easier access to services and allow virtual assistants to head into 2019 feeling like a Boss. A Ninja even.
Meet Publicity Virtual Assistant Ninja – Business in a Box. The program was launched this year by Jane Tabachnick, an author, trainer and PR pro with more than 20 years of industry experience. She has been recognized as a "top PR expert" by Udemy – the leading global marketplace for learning and instruction.
Tabachnick is currently running the program in beta mode so that she can gather feedback on the program from the first group of virtual assistants who go through the training. In exchange, the virtual assistants testing the program will receive deeply discounted pricing and other bonuses.
She also offers two scholarships a year to single moms running a business or seeking to start a home-based business.
"We're increasingly living in a gig economy. More and more professionals are providing services virtually and more and more businesses – especially sole business owners and small businesses – are purchasing those services," explained Tabachnick.
"I knew there had to be a way to make affordable PR services more accessible in that environment while at the same time providing an added revenue stream to those offering their expertise virtually," she added. "And I knew the key was ensuring the needed level of expertise was not sacrificed."
That understanding led to a brainstorm by Tabachnick: Why not fill the need for affordable public relations through a hybrid approach to implementing PR that combines outsourcing and doing it yourself [DIY] via the growing number of virtual assistants?
With the resulting Publicity Virtual Assistant Ninja program, Tabachnick gives virtual assistants the PR training, materials and tools to expand their services, attract new clients and improve their bottom line. But she took it a step further. Virtual assistants are awarded a certification and a badge for passing a test. They are also required to sign code of ethics so that businesses have the reassurance they are being supported by trained professionals with high standards.
The web based program includes modules on:
– Overview: PR & the Media
– Media List Building
– Media Asset Creation
– Media Monitoring
– PR VA Business in a Box
All participants receive the training, templates and worksheets as well as access to live bi-weekly calls for answers to questions as well; and extras such as a directory listing and promotional assistance are also available.
Tabachnick has even written a book on the subject that is available on Amazon called, The Virtual Assistant's Guide to Publicity Services.
Publicity Virtual Assistant Ninja – Business in a Box is currently being offered to beta testers for $249. The standard price is otherwise $499 for the course. It includes bonuses valued at $397. For more information or to participate in the beta program, click here.
Release ID: 458017