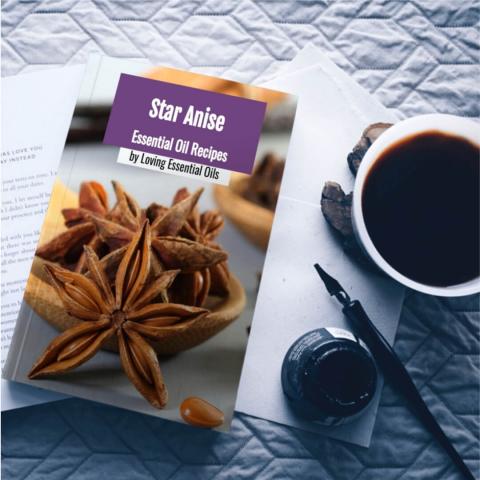 - September 21, 2021 /NewsNetwork/ —
Loving Essential Oils have announced the launch of a new aromatherapy resource called "Star Anise Essential Oils Guide". Loving Essential Oils provide a range of essential oil guides and DIY recipes in their online store.
For more information please visit the website here: https://www.lovingessentialoils.com/products/star-anise-essential-oil-guide
Star anise essential oil has seven main healing benefits for those who are interested in it. The sweet-smelling oil has antiseptic, antifungal, and antibacterial properties. It can also help with fatigue and overwhelm. Star anise is also said to relieve digestive discomfort, reduce anxiety, boost energy, ease colds and soothe nervousness.
Mix star anise oil with orange, rose, cinnamon and cypress oils to make it easy to use. Ten recipes are included in the guide that can be used to make massage oils, body oils, and rollers or diffusers. They can relieve pain, relax, increase physical and emotional energy and lift stagnation.
This printable guide contains star anise recipe and more information on how to get its benefits. Star anise should be used with safety precautions. The guide contains a complete list of safety precautions.
According to a spokesperson for the company, "Star anise essential oil is sweet and warm. It smells similar to black licorice. This oil is warm and can be used to lift stagnation. Star anise essential oils blend well with lavender and other essential oils such as orange, rose, clove, cinnamon, peppermint, clove, ginger, and pine. This guide will teach you more about the spice oil and give you some ideas for spicing up your life".
Loving Essential Oils was started by a family who wishes to live a more natural lifestyle and step away from health, beauty and cleaning products that are filled with harsh chemicals and toxins. They use essential oils everyday and started their online store in order to help other people live more natural and holistic lifestyles.
Those wishing to find out more can visit the website on this link: https://www.lovingessentialoils.com/products/star-anise-essential-oil-guide
Release ID: 89045909