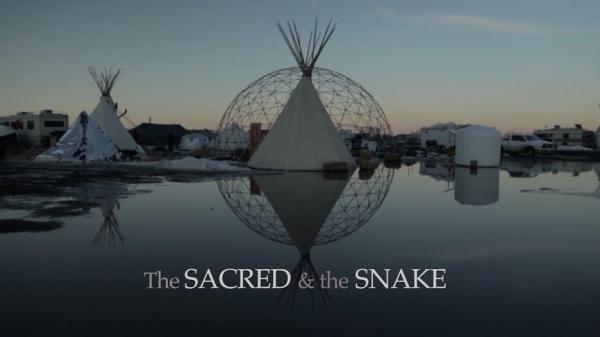 - October 14, 2020 /NewsNetwork/ —
Liminal Films has just released their first trailer and pitch for their $35,000 Seed&Spark crowdfund campaign for 'The Sacred & The Snake,' a feature documentary about the anti-pipeline Standing Rock movement. An October trailer release was chosen in honor of Indigenous Peoples' Day on October 12th. Liminal Films hopes to raise the funds for post-production, as well as for their Indigenous crewmembers and advisers. They aim for a Summer 2021 premiere.
For more information on how to support the completion of the film, visit: https://www.seedandspark.com/fund/the-sacred-and-the-snake
At Standing Rock, a two-spirit Jicarilla Apache/Navajo youth leader, a Lakota matriarch, and a non-binary Appalachian join the resistance against the Dakota Access Pipeline. They each discover their power within a movement that echoes worldwide – but as each returns home determined to break the cycle of intergenerational trauma and abuse, they realize their battle has just begun.
This film challenges the narrative that the resistance to the Dakota Access Pipeline ended in failure. The protagonists of this film – Lauren, Cheryl, and Olive – along with countless others continued their battle for Indigenous rights and the environment after the community formed at camp was forcibly evicted in February 2017. This film documents their stories from their arrival at Standing Rock until present day.
After Standing Rock, the crew continued to film and followed them to New Mexico where they protested fracking and uranium mining; to the Great Lakes Basin at the Anishinaabe-led Camp Mawka to stop the Line 3 pipeline; to Washington DC to protest Trump's Inauguration; to Charlottesville to support counter-protestors at the Unite the Right rally; to the coal mining towns of the Virginias to stop the Atlantic Coast and Mountain Valley Pipelines; and finally to Mt. Rushmore to defend Sacred Black Hills. Through all this, the filmmaking centers on the personal journeys and development of the core protagonists.
Around the country, the public is grappling with America's long history of colonialism. There is a passionate and growing movement to replace Columbus Day with Indigenous Peoples' Day, which celebrates and honors the people Native to this land.
Persons interested in learning more about 'The Sacred & The Snake' as well as the crowdfund campaign can visit: https://www.thesacredandthesnake.com
Release ID: 88980772