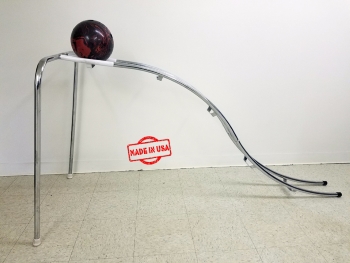 - December 7, 2016 /PressCable/ —
Innovative Products Inc. home of the POSS-I-BOWL 2000 – announces the launch of a bowling ramp extension kit that allows people with disabilities to bowl from a standing position. This adaptive bowling aide makes it possible for those who have suffered an injury to bowl without having to handle the ball in the usual way to bowl.
For more information visit http://www.bowlingramps.com
Although bowling is an activity that is enjoyed by young and old alike, it can be quite demanding in many ways. Those with orthopedic or other physical disabilities of the spine, nerves etc. will find it almost impossible to retain their balance while bending to pick up and throw the ball. Dropping the ball on their feet or getting their fingers injured in it can cause even more problems.
This is where the standing bowling ramp extension kit comes in. With it, anyone even with a serious injury such as broken ribs or arms or even a leg in a cast which prevents them from bending or handling the normal bowling routine can enjoy a session of bowling. The bowling ramp extension and leg extensions allow the bowler to raise the bowling ramp right up to waist level. The ball can then be rolled down this elevated ramp and the game can progress normally.
Steinke, the creator of The POSS-I-BOWL 2000, the bowling ramp and the extension kit stated: "Our goal is to create and deliver high quality, American Made, adaptive bowling equipment that gives anyone regardless of their physical or mental challenges to bowl."
The bowling ramp extension kit is American made and it is designed to work with an existing bowling ramp that can be disassembled and taken with the bowler. For more information visit the link given above. The product can also be purchased from this page http://www.bowlingramps.com/product/bowling-ramp-and-leg-extension-kit
Release ID: 152164