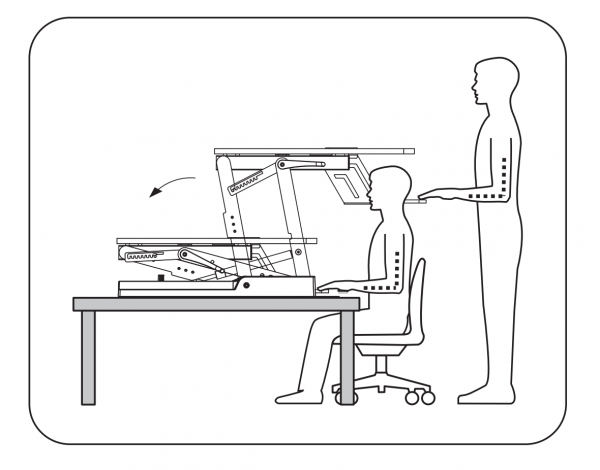 - May 24, 2017 /PressCable/ —
HJTCompany, an online retailer based in Huntsville, Alabama, launched a new adjustable sit stand workstation. The desk is large enough to hold two large monitors, making it an ideal solution for anyone looking to reduce sitting time while also having convenient access to a wide desk space.
More information can be found at https://amazon.com/Standing-Desk-Height-Adjustable-Stand/dp/B01NAVHONO.
Sitting is an unnatural position for the human body, and it exerts various pressures on joints, spine, muscles and the circulatory system. Recent decades have seen an increase in long office hours, which translates into a similar increase in sitting hours – the average office worker spending more than five and a half hours sitting each working day.
As more and more people become aware of the dangers associated with long sitting periods, alternatives such as standing desktops and adjustable workstations become more and more popular.
HTJCompany launched a new sit stand workstation that can be easily adjusted for various heights, allowing users to add much-needed standing times to their daily working routines.
Standing can substantially reduce the risk of obesity, as it burns 50 more calories per hour than sitting. The new sit stand desk allows an easy transition between sitting and standing, making it possible for users to switch between positions effortlessly while continuing to work on their projects.
Standing desks have also been shown to encourage better posture and reduce eye strain. The HJTC convertible sit stand desk can be adjusted for users with heights of up to 6'5", helping them alleviate the spinal issues associated with excessive sitting while also adjusting the distance between the monitor and the eyes for reduced eye stress.
The sit stand workstation is 36" wide, offering plenty of space to fit two large monitors of up to 27" each. This makes it ideal for users who prefer to stand while working on complex projects.
Interested parties can find more information by visiting the above-mentioned website.
Release ID: 202347