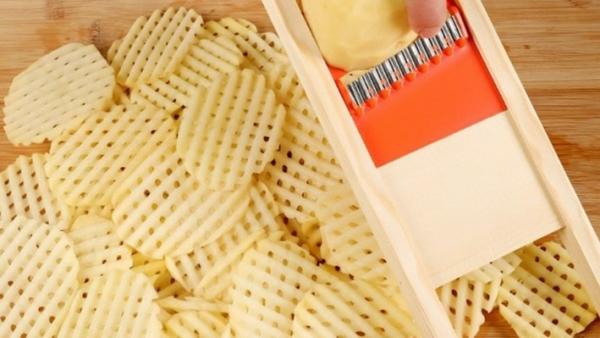 Singapore, Singapore - February 6, 2023 /PressCable/ —
The recently launched Multi-Slicing Outcome Potato Slicer With Grip Assistant cuts potatoes into chef-level thin and uniform slices or crisps. Its safety guard and grip assistance features prevent accidental injuries to the hands and fingers.
More details can be found at https://www.sammychampstore.com/#!/Multi-Slicing-Outcome-Potato-Slicer-With-Grip-Assistant/p/527104039/category=144940301
The new accident-free slicer enables customers to cut potatoes quickly with minimal effort and produces little waste. The newly launched product is particularly helpful for busy households and those who need to cut large quantities of potatoes.
According to a US Product Safety Commission - NEISS report, cuts and lacerations in home kitchens led to approximately 322,000 ER visits in 2017. The majority of injuries were sustained to fingers while cutting or slicing food.
Sammy Champ Store's grip-assistant slicer has been designed with home kitchen injury prevention in mind. "Not only does our slicer slice the potato into crisp, evenly sized pieces, but it also cuts through the potato without accidentally cutting your fingers. This is a huge benefit, especially when you're in a hurry and don't have time to be careful," said a company representative.
Customers should first hold the grip assistant with their fingers to use the product. The potato can then be placed onto the mandoline-style cutter and sliced downwards using even strokes and consistent pressure.
Made from lightweight stainless steel, the slicer is easy to clean and corrosion-resistant. The potato cutter's dimensions are 34cm x 10cm, and the grip assistant measures 13cm x 10.5cm. The product cuts multiple holes in potato slices, creating a lattice effect.
Sammy Champ Store offers a variety of carefully researched and curated products spanning homeware to made-to-order fashion, and more. The company's gadgets are selected for their unique and functional value to customers.
A company spokesperson said: "Our team has scoured the globe to bring you the best of the best - products that are not only rare and hard to find, but also incredibly useful and innovative. These are the kinds of products that you never knew you needed until you saw them, and once you do, you'll wonder how you ever lived without them."
Interested parties can find more information at https://sammychampstore.com/2023-q1-bumper-blog-posts/b/accident-free-potato-slicer
Contact Info:
Name: John
Email: Send Email
Organization: Sammy Champ Store
Address: One Oxley Rise Singapore, Singapore, Non-US/Non-Canadian 238714, Singapore
Website: https://www.sammychampstore.com

Release ID: 89089751