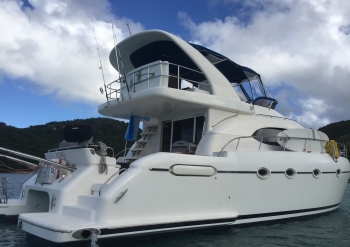 - February 26, 2016 /PressCable/ —
St Thomas boat rentalcompany, Beach Bum Boat Rentals, has added a 46′ Luxury Power Catamaran yacht to its rapidly increasing rental boat fleet in the U.S. & British Virgin Islands.
St Thomas and St John (U.S Virgin Islands) are very popular vacation spots, and are a natural place to rent a boat to go exploring the beautiful Caribbean Islands. Another benefit for U.S. citizens is that they don't need a passport to visit the U.S. Virgin Islands, making it very easy for Americans to get out and experience this idyllic caribbean hot spot – especially those visiting by cruise ship. U.S. citizens do need passports to visit the British Virgin Islands, however, even for a day trip.
Beach Bum Boat Rentals offers a much wider variety of boats to choose from, compared to most "Owner Operater" charter companies, who have just one boat. Having the largest selection of boat sizes and styles means that Beach Bum Boat Rentals can put your group on the perfect boat for your size and budget.
"The 46′ Luxury Power Catamaran is a beautiful yacht, offering a nice, smooth ride and a luxurious way to explore the Islands" says Brian Woeller, with Beach Bum Boat Rentals. "But the thing I like most about this yacht is the crew's flexibilty and the water toys she has on board! You can go snorkeling, kayaking, fishing – even scuba diving – on this boat. Before, someone would have to take three different day trips to go fishing, Island hopping and scuba diving," Woeller added.
St Thomas and St John are very popular cruise ship and wedding destinations, with renting a boat on St Thomas or St John being one of the most popular excursions. The Virgin Islands are unique in that the islands are very close together. Even on a cruise ship schedule, most tourists can get to, and spend a decent amount of time on 3-4 Islands in just one day trip.
"The 46′ Luxury Power Catamaran in St Thomas is a great way to explore the islands. I like to to scuba dive, but my family doesn't like to sit around on a typical dive boat all day. This way, I get to dive, and they get to Island hop on a very comfortable and stylish yacht," said Dan Schmidt, a Beach Bum Boat Rentals customer.
The new 46′ Luxury Power Catamaran rental fee starts at $1,950 per day, and includes the crew and fuel. Weekly charters are also available. British Virgin Islands customs' fees (approximately $45 per person) are additional.
You can reserve the 46′ Luxury Power Catamaran and be picked up on either St John or St Thomas, USVI. Go to http://BeachBumBoatRentals.com.
Release ID: 105154