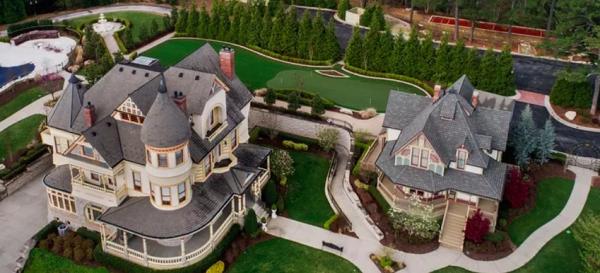 - March 9, 2021 /PressCable/ —
The Queen Anne Mansion and Resort, Eureka Springs, Arkansas, recently opened as of early 2021 for lodging and holiday dinner events. The upcoming St Patrick's celebration includes dinner and luxury parlor suites offered at special pricing during March.
Lodging is optional for booking the special St Patrick's Dinner, held on two separate Saturday's -the first on March 13th, second on March 20th. Two seatings are available for each evening. The first from 5 to 7 pm, the second seating from 7:30 to 9:30.
Guests choosing to lodge at the Queen Anne Mansion will experience rooms known for their pristine styling and exquisite ambiance. The structure was built in 1891, with grandeur so exceptional the mansion was first opened as a museum in 2010. In 2021, it has become a wedding destination and a unique eight acre location where corporate events are also held.
The St Patrick's dinner offers a four-course meal, prepared by renowned Eureka Springs Chef Jonny Streety. This includes such Irish favorites as Mulligan stew, and salad options of Irish Pub Salad or Roasted Romaine Wedge. The four traditional Irish entree' choices are: Corned-Beef Brisket, Bone-in Rack of Lamb, Pan-Seared Atlantic Salmon, and Scotch Pie. Details of each dish are found at the Queen Anne Mansion, St Patrick's Celebration (link) web page.
This celebration event, held in the historic town of Eureka Springs Arkansas, includes live music, with Pianist Rebecca Wineinger playing a variety of Irish and other songs to be enjoyed during both dinner seatings.
This 12,500 square foot mansion is well known for Victorian ambiance and beauty. It's unique hand-carved woodwork and history is now available to the public for lodging, and a variety of special celebrations such as this St Patrick's Day event.
Covid precautions are being taken including sanitizations measures, air purification, and space considerations for all guests and personnel.
Since seating is limited, inquiries are recommended in advance of the dates, and further details including all menu descriptions are found on this link to the St Patrick's Day celebration.
Release ID: 89000270