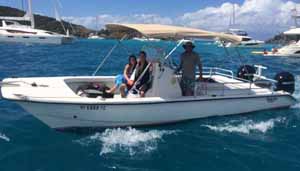 - December 15, 2015 /PressCable/ —
St John boat rental company, Beach Bum Boat Rentals, has added another 26′ Twin Vee power boat to its rapidly increasing rental boat fleet in the U.S. & British Virgin Islands.
As popular destination points in the caribbean, St John and St Thomas (U.S. Virgin Islands), are a natural place to rent a boat to go exploring the beautiful Virgin Islands. U.S. citizens don't need a passport to visit the U.S. Virgin Islands, making it very easy for Americans to get out and experience this idyllic caribbean hot spot – especially those visiting by cruise ship. U.S. citizens do need passports to visit the British Virgin Islands, however, even for a day trip.
While there are many charter boats and boat rental companies on the Islands that are "owner operated" and offer just a single type of boat. Beach Bum Boat Rentals offers a much wider variety of boats to choose from, depending on the amount of passengers in a group, the age of the people in the group, and of course, the budget.
"The 26′ Twin Vee power boat is a great boat, offering a nice, smooth ride and economical trip for around 8 people" says Brian Woeller, with Beach Bum Boat Rentals. "The Twin Vee is a catamarn power boat, so it has a very smooth ride and is exceptional fuel efficient," Woeller added.
St John and St Thomas are very popular cruise ship and wedding destinations, with renting a boat on St John or St Thomas one of the most popular excursions. The Virgin Islands are unique in that the islands are very close together. Even on a cruise ship schedule, most tourists can get to, and spend a decent amount of time on 3-4 Islands in just one day trip.
"We usually rent bigger boats when we come, since our group is usually 8-10 people. But this last time it was just me and a friend, so we rented the 26′ Twin Vee for less money. It was a smooth ride and gets you to where all the action is on the various islands!" said Stewart Luckman, a Beach Bum Boat Rentals customer.
The new 26′ Twin Vee power boat rental fee starts at $425 per day, plus a $150 captain fee, plus fuel. British Virgin Islands customs fees (approximately $45 per person) are additional.
You can reserve the 26′ Twin Vee power boat and be picked up on either St John or St Thomas, USVI. Go to http://BeachBumBoatRentals.com.
Release ID: 99117