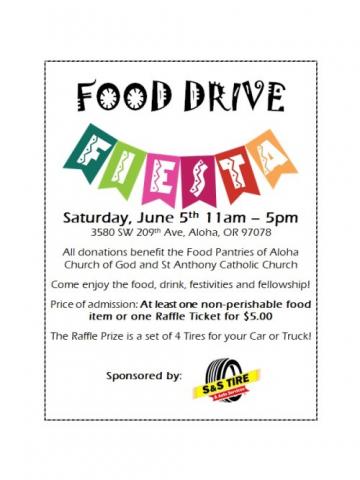 - May 31, 2021 /PressCable/ —
May 31, 2021. Beaverton, Oregon. S&S Tire and Auto Services (S&S Tire), located at 3580 SW 209th Ave, Aloha, Oregon 97078, is hosting a Food Drive Fiesta and Raffle on Saturday, June 5th, in order to acquire food and cash donations for two local food pantries: St. Anthony's Catholic Church in Tigard, Oregon and Aloha Church of God in Aloha, Oregon.
The last 14 months have brought tremendous hardship suffered by hard working American families across the USA, especially those that own and operate small businesses. In Oregon State alone, over 3,500 small businesses permanently closed because they could not withstand the extended forced shut-downs at the hand of government bureaucrats while large businesses like Costco, Walmart, Kroger and many others were allowed to stay open and flourish in contrast.
As a result of the extended forced shut-downs of small businesses by Oregon's governor, her "flatten the curve" announcement translated into a 14-month extended lockdown for most small business owners, causing many hard-working Oregonian families to permanently shutter their doors and now struggle with financial and food insecurity. As a local business owner, Mr. Saul Andrade, owner of S&S Tire and Auto Services, felt compelled to give back to the local community by hosting a community food drive and raffle to bring in much needed donations of food and money to go to the local food pantries operated by St. Anthony's Catholic Church and Aloha Church of God.
"I felt very blessed being able to keep my business open during the last year, but it has been a real challenge for us too because when tens of thousands of Oregonians lost their source of income or worked from home, fewer cars and trucks were available to service as people waited for some sort of reprieve to get back to work again. That reprieve never came. This food drive we're sponsoring is to honor and help those in our local community that are still suffering from the financial devastation caused by government overreach that is directly responsible for thousands of Oregon small business owners and their families being unnecessarily decimated," stated Mr. Andrade.
The Food Drive Fiesta and Raffle will be held on Saturday, June 5th, 2021 at S&S Tire and Auto Services, located at 3570 SW 209th Ave, Aloha, Oregon 97078 from 11:00am to 5:00pm. The price of admission for this event is a donation of non-perishable food and/or a purchase of a $5 raffle ticket. S&S Tire is giving away two separate raffle prizes: the first is a complete set of four tires, mounted and balanced onto a car or truck and the second is a four wheel standard brake service package for a car or truck. Admission includes free food and drink including, BBQ hamburgers, hot dogs, street tacos to eat and soda or bottled water to drink.
Mr. Andrade went on to say, "I am sincerely grateful to God and the local community for supporting my business during a very difficult year and I just want everyone to have an opportunity to get together, enjoy good food, fun, and meet other local community members so we can all work together to lift up those in need."
S&S Tire and Auto Services ("S&S Tire") provides the highest quality, affordable, new and used tires for cars and light trucks as well as maintenance and repair services to its customers in the greater Beaverton, Oregon area. Additional services offered by S&S Tire includes brake replacement, shock replacement, laser-guided wheel alignment, shock absorber replacement, and suspension repair. S&S Tire always provides FREE air pressure checks, FREE brake inspections, and FREE alignment and suspension checks for each customer. The company serves customers in Oregon from Portland, Beaverton, Aloha, Tigard, North Plains, Banks, Newberg, Canby, Keizer, Amity, Milwaukie, Hillsboro, Tualatin, Wilsonville, McMinnville, Scappoose, and Salem. S&S Tire and Auto Services is located at: 3580 SW 209th Ave, Aloha, OR 97078 and the office number is: 503-649-8473. The business was established in 2012.
Release ID: 89021423