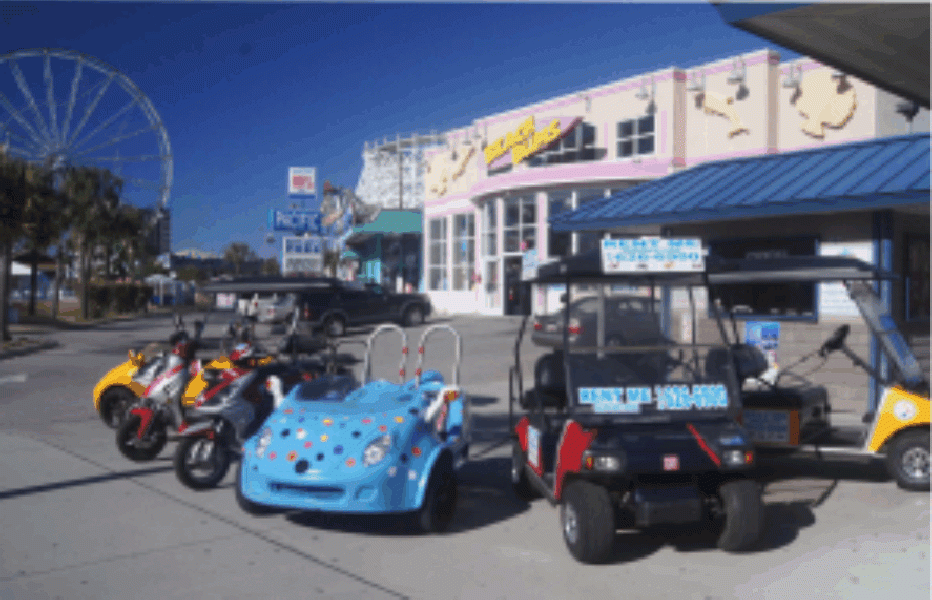 - March 4, 2015 /PressCable/ —
Individuals, families and students of all ages looking for some fun and a break from winter can expect an exciting and fun-filled time at Spring Break 2015 in Myrtle Beach, SC.
The Rent Me Super Store is a valued participant in this year's event, which will take place from the middle of March to the end of April 2015. Entertainment attractions of all types are available in Myrtle Beach and the surrounding areas.
Recently voted #3 as the best Spring Break 2015 destination in the US, Myrtle Beach offers "'Fun in the Sun" with a myriad of restaurants, bars, beach activities, clubs, music venues and more to make Spring Break 2015 a memorable experience.
Golf Carts with 100 watt Bluetooth surround sound systems will be available this year for the first time from The Rent Me Super Store and can accommodate 4, 6 or 8 people in comfort.
The convenience of having a scooter or golf cart at the beach eliminates the problems with parking and offers very low gas consumption. More money to party!
Full details on the event and rental availability can be found on the company website at www.mopedrentalofmyrtlebeach.com. Additional information is available from The Myrtle Beach Chamber of Commerce and The Myrtle Beach Merchant's Association.
When asked about the advantages of participating in this event, one of the hosts said: "We love the excitement this time of year brings and renting a moped, golf cart or scooter while at the beach is just a better way to get around while enjoying the festivities inherent at Spring Break".
The Rent Me Super Store has over 300 vehicles for rent at their 6 locations. Their video shows a sampling of their extensive vehicle inventory. They have something for everyone.
Rental Inventory at Rent Me Superstore
Call (843) 626-6900, or go online to make a reservation and save up to $50 for a weekly rental.
Release ID: 75940