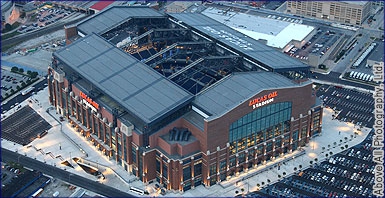 - September 22, 2015 /PressCable/ —
Sports fans are oftentimes more hyped up about the venues they see their teams play in than the actual games. That's why SportsTicketBank, an independent online ticket seller, created a must-see list of venues for the most diehard of fans.
"We saw creating the list as an opportunity to expose sports fans to the vast array of spectacular venues that are scattered across the nation," says a spokesman from SportsTicketBank. "Many fans only see the venues their teams play in, and that's a shame. We thought that by exposing them to different styles and types of venues, they would begin to plan trips to see games in some other venues. And that will only add to their enjoyment of the sport."
The most recent addition to the list is the Lucas Oil Stadium, which is located in Indianapolis, Indiana. The stadium hosts the Indianapolis Costs, and opened as recently as 2008. The building consists of both the stadium and a convention center, and came to fame when Brandt McCoskey proposed to this girlfriend during the Colt's 5K race.
The stadium was built to replace the RCA Dome, and was going to be called the Indiana Stadium. But then Lucas Oil purchased the naming rights for the stadium for $121 million, and decided to make it its namesake: the Lucas Oil Stadium. To pay for the studio, the city raised taxes on food and beverages in and around the area, and in the end, they needed to pay a hefty price tag of $720 million.
"The money was well spent," says the spokesman. "It's one of a handful of stadiums that has kinetic architecture, which means it has a retractable roof and a moveable window that allows the studio to be used as an indoor or an outdoor space. The roof is currently the largest roof in the country, and that alone makes it worth the trip to see a game in this fabulous venue."
And space isn't an issue for the stadium. It can fit between 62,000 and 70,000 fans, depending on whether the stadium is configured for football or basketball. And considering that the stadium boasts 137 luxury suites, some of which are only ten feet from the end zone, make the venue that much more attractive.
"Anyone will enjoy seeing a game played in this unique stadium, whether they're Colts fans or not. And that's why we decided to put the Lucas Oil Stadium on our list of venues. It's just another stadium that any sports fan should have on their bucket list."
Those people interested in getting great seats for upcoming games are encouraged to visit the website or call (866) 459-9233″
Release ID: 91823