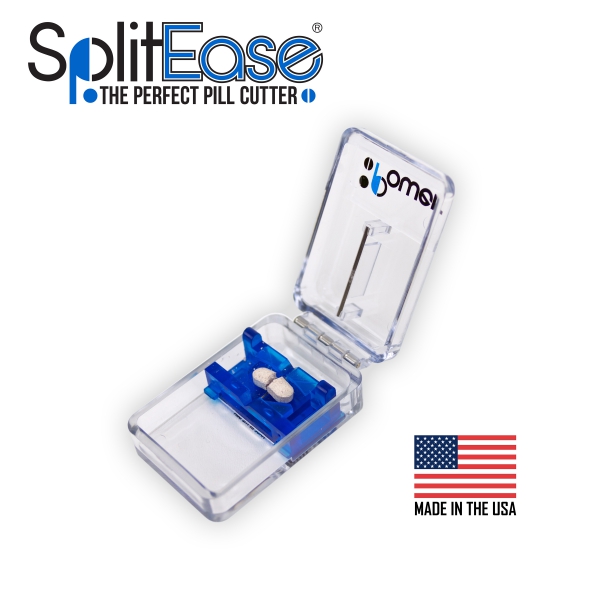 - August 11, 2016 /PressCable/ —
The SplitEase Perfect Pill Cutter has launched on Amazon, offering customers the chance to save up to 50% on their annual prescription drug costs by splitting scored and unscored pills. The product makes pills easier to swallow pills and helps customers to adjust their dose, giving them control over how much they spend on prescriptions.
More information can be found on the SplitEase Perfect Pill Cutter Amazon page listing at: https://amazon.com/SplitEase-Perfect-Pill-Cutter/dp/B01CYU0BMK.
The company explains that, traditionally, there's little difference between the price of weak and potent pills prescribed by doctors. In fact, often higher strength pills are exactly the same cost as their lower strength counterparts.
When this is the case, SplitEase says that it makes financial sense to cut higher strength pills into halves or quarters to get the same recommended dose and let each customer's money stretch much further.
The problem is that most pill cutters on the market can be frustrating to use and make for an infuriating exercise when customers try to use them to cut pills. In addition to this, SplitEase says that a poorly cut pill can end up doing more harm than good to the consumer.
Furthermore, cheap pill cutters can dull quickly, rendering them useless over time. That's why the SplitEase Perfect Pill Cutter has been designed to stay sharp, with a stainless steel cutting non razor edge that cleanly cuts a large variety of pills.
SplitEase emphasises that the SplitEase pill cutter is safe, easy to use, and simple to work, helping every customer to cut pills without worry. People suffering from circulatory problems or painful arthritis, who might not be able to cut pills well on their own, can use the product to guarantee a safe, clean cut.
The sloping lid of the SplitEase Perfect Pill Cutter is ergonomically designed to fit the palm, with a sloping lid and no dangerous cutting edge.
SplitEase underscores that there is a 100% lifetime money back guarantee for any customer not completely satisfied by their product.
To find the SplitEase on Amazon, click this link.
To go to the manufacturer's website, visit: https://www.PerfectPillCutter.com/
Release ID: 127408