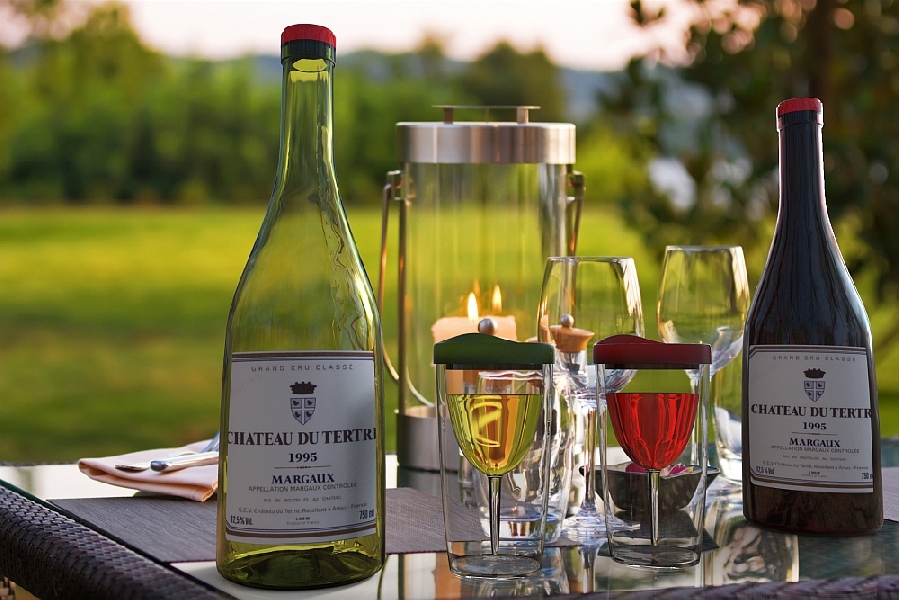 - January 15, 2015 /PressCable/ —
St. Petersburg, FL, January 14, 2015 – The innovative thinking and 21st century think-tank at Wineova have produced a revolutionary, wine glass that has managed to combine the sophistication of a wine tulip-shaped goblet and the convenience of an acrylic tumbler with a safety lid.
The Wineova plastic wine glass is crafted for wine lovers, who are engaged in picnics, barbecues, beach days, camping, hikes or a cross-country car journey. Wineova plastic wine glasses come in a set of two with well-thought, red and green lids. These lids aid in insulation to keep the wine cool for a longer period and enhance the individual wine flavors. Each glass is double-walled, whereby the inner chamber is shaped in the classic wine-glass design and ergonomically enhances the taste experience. The double-walls also inhibit further heat transmission from the hand to the actual chamber containing the wine, adding to the chilled-drinking experience. Each Wineova wine glass holds about 10 ounces of liquid, measuring 3.5 x 3.5 x 6.5 inches and weighs a mere 4.5 ounces.
It is worthy to mention that the plastic used to construct both the inner and outer chamber of the wine glass are BPA-free and ideal for family use. The portable drink-though lids add to the efficiency of the glass making it impossible for any foreign object like dirt, flies and gnats to spoil the expensive drink.
Wineova wine glasses are ideal for any kind of wine, from sparkling champagne to fruity Cabernets or Merlots from soothing Chardonnays to spicy Pinot Grigios. These glasses are the epitome of both style and function, providing the consumer much value for both money and time.
The functionality of the glass is simple and flexible, all one needs to do is slide back the spill-proof lid, revealing the slot permitting a sip, consume, and then slide back the slider. It is not needed to pop open the entire lid unless a refill is needed.  The unique functionality does not end here; with Wineova's acrylic wine glasses one can enjoy the ease of traveling. It is possible to carry these wine glasses with lids in a backpack without any damaging or chipping concerns. Both the components of the glass, meaning both the tumbler and the lid are for hand-wash only.
Wineova acrylic wine glasses ensure restaurant quality wine experience right in the comfort of a car or a backyard with a material that can survive anything from camping trips to a long hike in the woods. It is ideal for family outings and makes a perfect holiday gift.
Release ID: 72101