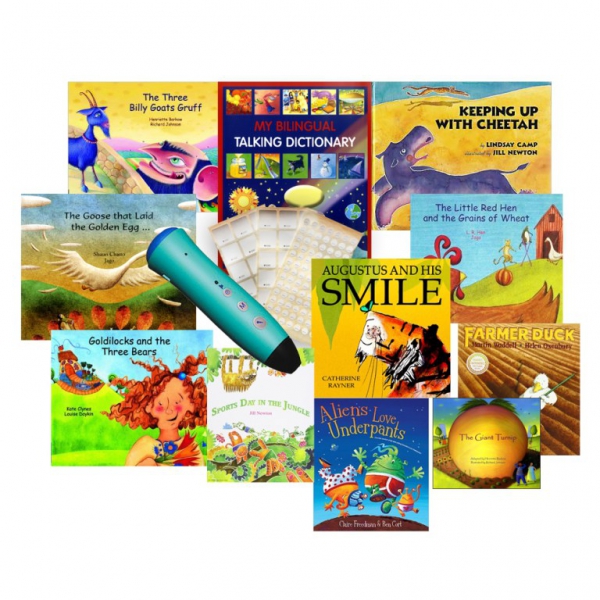 - November 1, 2016 /PressCable/ —
Language Lizard, LLC announced that its new interactive Bilingual Audio Book Sets with PENpal Audio Recorder Pen are now available at a special introductory discount. With these literacy sets, children can hear stories in English or Spanish by simply touching the PENpal to children's bilingual books to make them "Talking Books". The children's books are beautifully illustrated and include text in both English and a second language. Audio Book Sets are offered with 4, 10 and 20 bilingual books and are available in many other languages such as French, Arabic, Chinese, Portuguese, Russian, Somali, Vietnamese and more.
Anneke Forzani, President and Founder of Language Lizard, says: "We wanted to offer a great selection of books for children who are learning a second language and allow them to use the PENpal Audio Recorder Pen to interact with those books. Anyone familiar with the bilingual children's book market knows that it can be challenging to find quality stories that engage children in many languages. It is especially difficult to find multilingual resources that allow children to both hear and read those languages."
The award-winning PENpal Audio Recorder Pen is an ideal tool for reading, writing and language development for recent immigrants, English language learners, foreign language learners, and learners with special needs. It can also be used to record messages, music or sound effects with recordable sound labels that can be affixed to almost anything. All of the PENpal bilingual sets come with these labels, further enhancing the interactive possibilities of the sets.
"We want children to be excited and completely engaged when reading and hearing the stories," said Ms. Forzani. "The PENpal includes a headphone jack, so children can even listen to the bilingual stories in libraries or in classroom centers."
Language Lizard, LLC has been supporting language learning and multicultural education since 2005. It has been serving the needs of parents, teachers and librarians with resources in English and a choice of over 40 different languages.
To find out more about the multilingual PENpal Audio Recorder Pen sets, visit www.languagelizard.com/PENpal-Interactive-Literacy-Sets-s/131385.htm.
For further information about Language Lizard, LLC and to find additional resources in over 40 languages, visit www.LanguageLizard.com.
Release ID: 142089