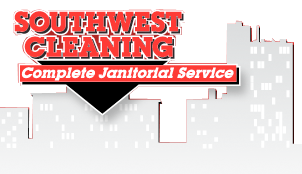 - January 29, 2016 /PressCable/ —
Southwest Cleaning, a janitorial services company providing commercial cleaning services to businesses in Lubbock, TX and surrounding communities, has just released a few expert tips to help business owners and property managers hire the right commercial cleaning company for their needs.
Having been in business for over 25 years, Southwest Cleaning understands how a clean and professional environment can affect a customer's perception of a business and the importance of choosing the right janitorial service company. Not all commercial cleaning companies are created equal and every business has a unique set of needs. That's why Southwest Cleaning, Janitorial and Commercial Cleaning Service experts, compiled the following tips to help businesses find and hire the right commercial cleaning company:
Ask For References – Before hiring any janitorial company be sure to ask for references and call each one. Talking to other business owners about their experiences will reveal a lot about that company and how they do business.
Check Their Online Reputation – After calling their references check out the company's reputation online. Spend some time reading through the comments on online review sites, such as Yelp and Angie's List, and research the company's credentials and certifications.
Are They Trained, Uniformed Professionals? – It's important to feel comfortable with any hired crew, so make sure that the commercial cleaning service company thoroughly trains and vets every employee. Southwest Cleaning also recommends hiring a company that requires their employees to wear uniforms so that they are easy to identify by their work and appearance.
Hire A Full Service Company – Hire a full service cleaning company to handle everything from construction cleanup to regular ongoing janitorial services and periodic cleaning tasks. Having one company to handle it all will help save time, money and hassle down the road.
Go Local – National chains often send their calls to call centers halfway around the world – hire a local commercial cleaning company that takes pride in their community and provides top-notch customer service. Knowing where the company is owned and operated makes a huge difference.
Property managers and business owners looking for commercial cleaning services in and around Lubbock, TX should contact Southwest Cleaning immediately. Southwest Cleaning can structure a custom tailored janitorial cleaning program that will reflect the professional image of any business, building, or portfolio. Services include green cleaning, construction cleanup, floor cleaning and maintenance, carpet and upholstery cleaning, grout restoration, concrete floor sealing, and more. The team at Southwest Cleaning prides themselves on their impeccable attention to detail, professionalism, and open communication with every client. With their unique professional approach to commercial services, Southwest Cleaning has had the privilege of serving many of their customers for over 10 years.
About Southwest Cleaning
Southwest Cleaning has been providing the highest quality commercial cleaning and janitorial services to customers in Lubbock, TX and surrounding areas since 1991. Southwest Cleaning has built a reputation for great attention to detail and having a highly dedicated approach to taking care of client's commercial cleaning needs. That's why many well-known local businesses here in Lubbock, TX trust their commercial cleaning needs to Southwest Cleaning.
For more information, please visit http://www.swcleaning.com/
Release ID: 102395