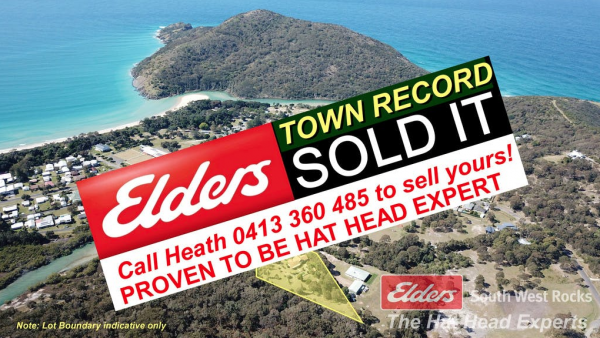 - November 4, 2021 /NewsNetwork/ —
Since making the announcement, the office has recently broken two local records for property sales. The first being a town record for Hat Head, and the second a street record in South West Rocks.
View record sales here:
SWR Elders Record Sales
By combining forces with David Gray's Port Macquarie team, the local agency now has access to additional resources to assist with local sales. It is expected that the mix of local knowledge and a wider support network will allow for greater leverage in the market.
Located at the mouth of the Macleay River, South West Rocks remains a popular Mid North Coast holiday destination. The local property market has traditionally attracted retirees, although recent trends indicate that the area is becoming attractive to a wider audience.
The sale of 130 Gap Road, Hat Head, on 9 October 2021 was a good example of this shift. Billed as a one in twenty-year opportunity, the three-bedroom property sold for an undisclosed amount that marked a record for the township.
Similarly, the sale price of $915,000 for 15B Baldwin Street in South West Rocks was another recent record-breaking achievement. The new townhouse occupies a central location and includes a north-facing rear entertainment area. Modern additions, such as a study area, suggest some of the changing needs of buyers in the region.
While the office now works more closely with the Port Macquarie team, Elders South West Rocks maintains the local focus that has made it a popular choice in the region. The agency will continue to provide a full range of property sales, rentals and holiday accommodation for both South West Rocks and Hat Head.
You can learn more about the team and get key insights into their latest listings here:
Facebook.- EldersSWR
About Elders Lifestyle Group
Having over 30 years' experience in the area, the South West Rocks office is staffed by Heath Askew and Leonie Ward. Agent and auctioneer Askew handled both of the recent record-breaking sales. The Port Macquarie head office is led by owner and CEO David Gray, who is assisted by his team to support his 11 Elders Real Estate offices across the NSW Mid North Coast and Northern Rivers areas.
The company announced a group total of 470 houses sold this year with a growing demand heading into Christmas. Families are looking to settle in before Christmas and prepare for the new year ahead in their new homes.
One client of Elders South West Rocks stated: "These guys are lovely. They are always very friendly and up for a chat, and happy to help with any enquiry or issue. I highly recommend them."
Interested parties can learn more by visiting:
https://southwestrocks.eldersrealestate.com.au
Previous News Articles:
David Gray – News
Release ID: 89051962