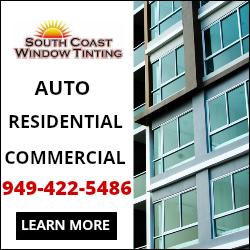 - September 21, 2018 /PressCable/ —
Orange County Window Tinting, CA – South Coast Window Tinting is a renowned window tinting company offering a wide range of window tinting services. Located in beautiful Laguna Niguel, California, the window tinting company serves all of South Orange County's Auto, Residential and Commercial projects. South Coast Window Tinting has received a phenomenal response from customers and has become one of the top rated window tinting services of Orange County over the years. Backed by the trust of an overwhelming number of clients, South Coast Window Tinting is the first choice for customers.
It's not just during the summer months that solar rays can be bothersome as they beat down through a window, but during the winter months the sun can be just as strong. This is why the innovators at South Coast Window Tinting know that a little window tint can definitely be a good thing. Film can block out up to 80% of solar heat and 99% of all harmful UVA and UVB rays. Energy efficient window tint can also reduce your power bill dramatically by keeping in heat in the winter and blocking out heat in the summer.
Equipped with a professional staff that brings over 22-years of experience in the window film tinting industry to the table, South Coast Window Tinting is known for installers who are perfectionists.
"We take pride in making any car, home, or office look great, and that starts with beautiful windows," said Jeremy Griffin, Founder and Owner of South Coast Window Tinting. "We work hard to carry the best products on the market, working year round to ensure all clients are comfortable in the heat day-in and day-out."
Putting a little strategic space between the sun and a business, home or car can mean life in a cooler, more comfortable and definitely a lot healthier environment. It can also mean a life that involves a less squinting and a much better view. Let the experts at South Coast Window Tinting take care of your home, office or automobile tinting needs today!
For more information, please visit http://southcoastwindowtinting.com/
Release ID: 410613