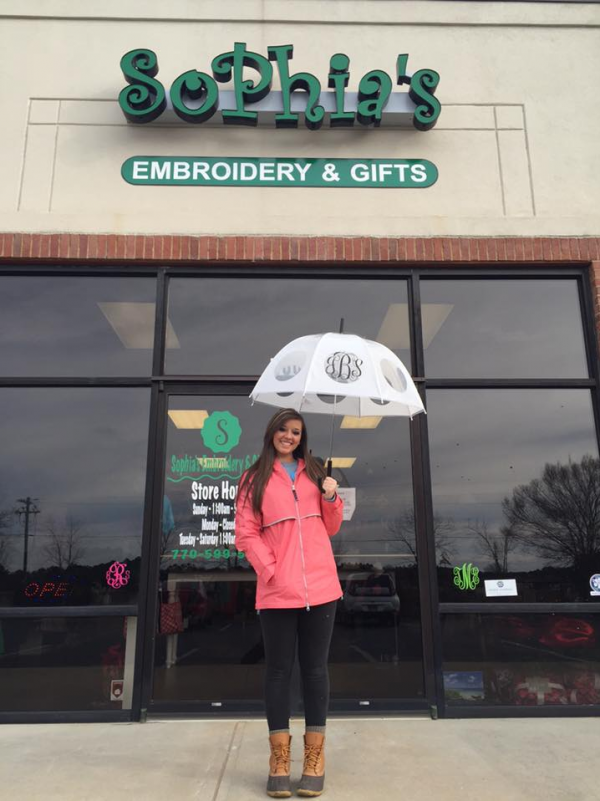 - April 8, 2016 /PressCable/ —
Sophia's Embroidery & Gifts is a full service embroidery shop headquartered in Georgia, USA. The company provides personalized items using state-of-the art embroidery and inscription technologies on all surfaces including bags, clothing, woods and signage.
With the rise in ecommerce options, Sophia's Embroidery saw an opportunity in the personalization space. Marc and Ashley Till own and operate the store. The monogrammed cosmetic bags were initially an internal way to show gratitude to their bridesmaids, but quickly the word spread on Facebook when friends were tagged in their custom, artistic styled embroidered names on luxury materials. The combination of colors and stitching creates an aesthetically pleasing bag, suitable for fine dining or everyday use. The demand for the product increased exponentially since their new location grand opening in 2015, and has steadily increased.
Traditionally gifts or bags were simply standard accessories. In today's world with competition in every facet of social and apparel life increasing, the ability to stand out from the pack, and be seen as unique, fun, and exciting is what the monogrammed cosmetic bags offer. Because Sophia's Embroidery owns all the equipment and operates in house, the pricing for personalization can rival even mass-produced bags often seen in major retail outlets.
The new cosmetic bag line offers a wide assortment of options to choose from: elegant and sheek, calligraphy, easy to read embroidery, colorful, fun, pattern color fabrics, and various images. Whether a client wants a cute bag, or a luxury bag that exudes style and class, Sophia's Embroidery's new line is being sought after by local celebrities and bridal businesses. By catering to the individual, the process is more involved and time-consuming, but the finished product is one the owner can know they truly have a one of a kind bag that no other woman in the world owns.
Release ID: 109882