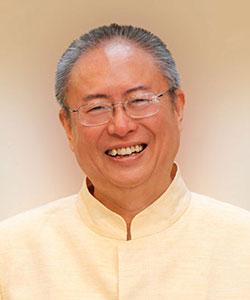 - January 14, 2022 /PressCable/ —
With the new year often comes new approaches to life and an openness or receptivity to new ways of doing things. This January, 2022, people can try a novel way of healing that can help transform stubborn aches and pains, nourish balance and renewal, increase energy, stamina, vitality and immunity, and much more. It's based on ancient wisdom and scientific principles and it's called Tao Song Healing Hour currently offered by Dr. and Master Zhi Gang Sha on Sundays at 9am ET. Everyone is welcome!
Sound healing works through resonance and entrainment of frequency and vibration. Our organs and systems have an innate resonant frequency and vibration and our cells make sounds through their metabolic process; they strive to match or harmonize with neighboring cells.
Quantum physics further tells us that we are made of vibrational fields that carry information, energy and matter. Emerging models of vibrational healing apply the concept of a biofield that holds and conveys information that is vital for biocommunication and regulation. This biofield is said to be an organizing influence distributed over space and time that allows information to flow within and between different levels of an organism, and even across organisms (ref 1). This new, holistic model holds promise for understanding the positive effects of sound healing and other vibrational healing modalities, and information is the key.
In Master Sha's teachings, Tao is the Source or ultimate creator. Through his connection with Source, he received wisdom and knowledge about the singing channel in the human body and how to develop it to be a "Tao Song Channel" in order to bring in a level of Source frequency and more into one's song.
Given his in-depth training and spiritual mastery, Master Sha's Tao Song Channel is robust. When he sings Tao Song, it carries a high level of Source frequency and vibration, as well as the pure positive information, energy and matter of Tao Source. This creates a powerful vibrational field that penetrates the vibrational fields of recipients who receive it for healing.
In Tao Science, co-founded by Master Sha and quantum physicist Dr. Rulin Xiu, they share that information is the same as soul or spirit. In fact, Master Sha says that the soul is a warehouse of information, both positive and negative. He says the key to healing is to transform negative information. One of his best-known quotes is, "Heal the soul first; then healing of the mind and body will follow."
To absorb positive information, energy and matter from a high-frequency field is something that Master Sha calls "Field Healing" because such a field enables people to transform lower vibrating information, energy and matter in their own vibrational fields.
Tao Song accomplishes this. It is sound healing. It is Field Healing. It is Tao Healing.
With intention, people can target any key area in life, such as a heath condition or a relationship. Upon request, the high-frequency field of Tao Song will flow to that area and more.
Leading Tao Song Teacher and Healer, Sher O'Rourke, says this: "Tao Song has completely transformed my life. It has opened up my voice, increased my energy, stamina, vitality and immunity, balanced my chakras, enhanced my wellbeing, and empowered me to help others in a most joyful and special way."
She added, "Master Sha's Tao Song Healing Hour is an accessible way to receive nourishing, rejuvenating and healing information and energy of impeccable quality. The Source frequencies and vibrations are gently infused into the soul, heart, mind and body, going deep into the spaces and the blockages that most need healing and transformation. I always experience positive results and would not miss a single session."
Another fan of Master Sha's Tao Song is Grammy award winning singer and humanitarian, Roberta Flack, who had this to say about it:
"His voice is incredible and carries incredible power. … The Tao Song that Master Sha sings is a musical gift beyond the sound of any voice singing that you can hear every day. …. His voice is like the voice of God singing. God's voice in his body is so unique that it is definitely a healing sound."
And here is an example of one person's experience after a recent Tao Song Healing Hour they attended:
"My work in an office is very sedentary. My lower back usually feels tight. For several months, my neck has become stiff and in pain. When I turn my neck, I can hear bone traction noise. I've tried to rotate my neck more often to release pain and increase mobility but haven't made much progress. During Master Sha's Tao Song Healing this morning, I requested healing for my neck. After the session, I felt the noise and pain decreased 80%. By evening, the noise and pain reduced by 95%. It's amazing." (I. M.)
Everyone is welcome to attend these sessions on Sundays at 9am ET. You can learn more here.
About Dr. and Master Sha
Dr. and Master Zhi Gang Sha is a renowned spiritual healer, teacher, and best-selling author with an MD degree in Western medicine from China and who is also a doctor of traditional Chinese medicine and acupuncture. Creator of Soul Mind Body Medicine, Tao Healing, and the Tao Calligraphy Healing Field, he has traveled the world for over 20 years empowering people to heal themselves and others through the power of soul. Master Sha was named the Spiritual Innovator of the Year in 2020 by the International Association of Top Professionals and has received widespread recognition for his service to humanity, including the Martin Luther King, Jr. Commemorative Commission Award for promoting world peace.
Release ID: 89059948