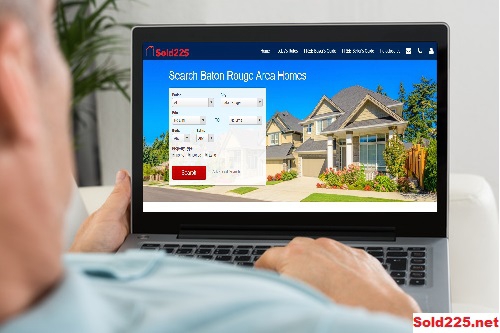 - October 11, 2016 /PressCable/ —
Earlier today, Sold225.net finally announced the Official Launch of its new Search Site for Homes for Sale in Baton Rouge, Denham Springs and Zachary Areas and also catering to the For Sale By Owner Market (FSBO). A service, which has been in development since August of 2014. The main aim is to offer a Simpler, Easier way to conduct home searches… but it does so, with a difference.
Bruce W Easterly, Owner and Real Estate Broker says: "We wanted to try something new with this Site, Searching Homes for Sale the Baton Rouge, Denham Springs, and Zachary Area and also catering to the For Sale By Owner Market (FSBO) should be a No stress, easy experience. Anyone familiar with the Residential Real Estate market will probably have noticed how most other Real Estate agents seems to List homes on the MLS and hope for the best . This is a problem because You must stay up-to-date with the changing Landscape of Real Estate Marketing."
Sold225.net aims to change and improve the way customers search for homes online.
So as a welcome breath of fresh air, Sold225.net will instead use modern technology and social media to drive potential clients to their website. Sold225.net chose to make this move because The Residential Real Estate Marketing Landscape has Changed dramatically in the past few years. Staying Modern in Today's techno and Social Media world is a must to service clients properly.
Bruce W Easterly also said "We want to give our customers Modern, Professional and Effective Tools that no-one else is offering. With our new Search Site People finding Homes in the Baton Rouge, Denham Springs, Zachary Areas should be an enjoyable experience, they have a fresh new possibility. We want them to feel They are getting the BEST Outcome possible for their dollar when using our service. Trying something new is always a risk, but it's a risk we believe is worth taking."
Bruce W Easterly has been a Real Estate Broker for Over 20 Years and currently is an Associate Broker at Mandy Benton Realtor Group, LLC out of Denham Springs. Since Day 1 it has always been his goal to offer the best experience on BOTH sides of a Real Estate Transaction for his clients.
This isn't the first time Sold225.net has defied convention either. In 2010 they caused a stir when Always looking to Improve Marketing efforts with Technology.
The new Search Site for Homes in the Baton Rouge, Denham Springs, Zachary Area for sale is set to launch on October 12, 2016. To find out more about this New Home Search Site and Sold225.net visit http://sold225.net
For More Information feel Free to Contact Bruce by Phone or email
(225) 278-7700 — bruceweasterly@gmail.com
Release ID: 137379