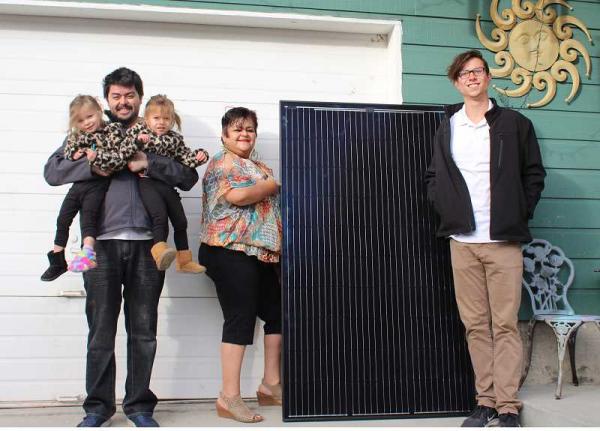 - December 14, 2020 /PressCable/ —
PureLight Power, an Oregon solar company, was able to participate in an effort to install solar panels on a Habitat for Humanity home this month. The Habitat for Humanity homeowner, Thijmen Samayoa, and his family benefited from the joint effort of the cooperation with the team at the solar company, PureLight Power. PureLight Power was highly involved in the collaboration between the Habitat for Humanity and the habitat for humanity homeowner. The Habitat for Humanity Board Vice President, Davida Plaisted, detailed the presentation that Samayoa had given the board of directors exhibiting the amount of money that the family would save on electricity after the installation of PureLight Power's solar panels.
To find out more about PureLight Power please visit https://purelightpower.com
The Samayoa family's presentation was so compelling, well drawn out and motivating that the board of directors and PureLight Power felt obliged to grant the Samayoa family with what they dreamt up. The board of directors at Habitat for Humanity and PureLight Power saw a chance to help this family in a dramatic way, and jumped at the opportunity.
Habitat for Humanity homeowners are those who live in homes that were built by, remodeled, or fixed by the Habitat for Humanity organization. Habitat for Humanity homeowners often require better housing due to the poorly built, damaged, or unhealthy environment of their current housing situation. Such homeowners exhibit great effort and responsibility in partnering with Habitat for Humanity, and in this case the all-star team at PureLight Power, to make dreams come true, and they are often hard-working people who just need a little help.
Habitat for Humanity works with families around the globe, and they change many families' lives with the help of companies like the solar company, PureLight Power. PureLight Power is a unique solar panel installation company in that the team at PureLight Power often participates in philanthropic projects in their community to aid families in the region. The solar company regularly helps residential homeowners and commercial property owners to install solar panels at the most affordable rate, and in the most efficient manner possible.
Cory Reece, a sales consultant for PureLight Power, was especially involved in making the Samayoa family's desires a reality. Samayoa said "Cory has been with me every step of the way, trying to get it all done. I was just hoping they'd take off one of the liens so I could get my own loan, but this is way better. I was very excited about it."
Release ID: 88989672