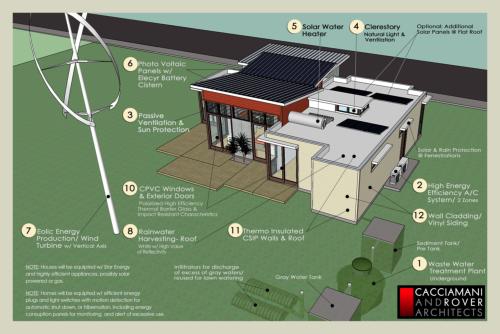 - September 22, 2015 /PressCable/ —
Elecyr Corporation, and Greentech Construction Systems will provide grid independent power using electricity provided by rooftop solar collected in "Solar Cisterns" using graphene-enhanced battery systems that will last a lifetime and provide total independence from the electric grid. In these island communities, energy costs are an overwhelming $0.50 per kWh and often the cost of electricity and water can exceed the cost of a home mortgage.
The energy storage systems will use lithium titanate batteries enhanced with graphene and carbon nanotubes. "These new batteries are specifically engineered for residential energy storage and last one hundred times longer than lead-acid batteries. Although initially expensive, these batteries are designed to last a lifetime," Bill Southworth, president of Elecyr explains. "Cisterns are an integral part of island homes. They are used to collect rain as the sole water supply where municipal water is not an option. We will be doing the same with electricity. Energy storage in each home will act as a cistern for collecting the abundant solar energy. In clusters of homes the power will be shared using Elecyr's direct current Digital Microgrid™ technology to provide energy independence for the local community."
A combination of advanced construction, solar energy storage and a holistic engineering approach to affordable housing construction will bring grid independence in areas where the population growth is outpacing infrastructure development.
"These island communities are the canary-in-the-mine for the disruptive change that will affect global power distribution in the next decade. We've seen this before when cell phones first dominated in third world countries despite their higher cost. There was simply no other option. The sun doesn't shine all the time, even in the Caribbean, and island electric utilities are unreliable and limit new solar installations. Batteries are the only option for accessing solar and wind energy when it's needed," Southworth continued.
These new, energy independent homes will be designed by Cacciamani-Rover Architects of San Juan, Puerto Rico, and constructed by Greenwich Constructions Systems LLC.
"Elecyr will add their advanced knowledge of solar energy storage and their understanding of the power requirements of a sustainable future home. For true construction efficiency it's not sufficient to just add solar panels to a building. It's necessary to look at every aspect of the building as a single organism optimized for efficiency without compromising on comfort. This includes low-voltage DC LED lighting, DC central air conditioning and multiple electric distribution panels. This lets us use smaller, ultra efficient inverters to generate AC power and in some cases, directly use 100 percent efficient DC. It also includes, thermal efficiency, sewer and water management to provide further freedom from dependency on traditional grid and municipal systems. With proper design, an affordable home can be a luxury home that can be assembled on site in a single day," Architect and Developer Carlos Cacciamani explains.
Elecyr Corporation of Dover, New Hampshire, manufactures the PowerStack family of plug-and-play battery-powered generators for homes and businesses. The systems range in capacity from 3 kW to 500 kW. Multiple Elecyr PowerStacks can be combined in a Digital Microgrid™ to share intelligent power sources among consumers.
Greentech Construction is part of the Cacciamani Construction Group, which was founded in Venezuela in 1973 and later moved to Florida. The tradition began with the construction of projects such as dams, expressways, tunnels, hotels, resorts, military facilities, airports, water processing plants, low income housing condominiums, office buildings and the development of exclusive residential communities throughout South America.
Cacciamani-Rover Architects, Carlos Cacciamani, Cell 787-241-9339, email: ccacciaman@aol.com, web: http://www.cr-arch.com
Press Contact (Belize) – Darrin Holley, darrinholley@gmail.com
For Images and Full Press Release visit Elecyr.com
Release ID: 91793