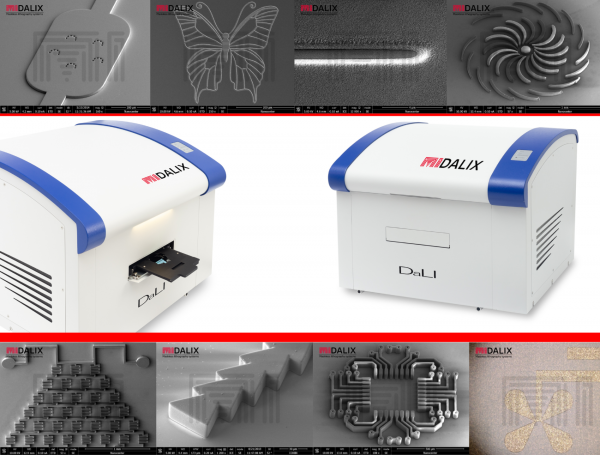 - October 5, 2021 /PressCable/ —
DaLI is operated via an intuitive software solution that makes it highly user-friendly, regardless of prior experience. The new maskless technology allows for easy design changes, eliminating the need for sample-to-mask alignment for every modification.
More information is available at
https://midalix.com
The new miDALIX DaLI system provides nanometer precision, featuring an acousto-optical laser beam deflecting system combined with a stable laser source, total thermal stabilization, and smart table tracking solution. Aside from microelectronics and other traditional uses of lithography, this feature is also highly beneficial in other fields like biophysics and lab-on-a-chip technology.
In recent years, lithography techniques have been found to be of great value in research laboratories. In biophysics, the technology is proven to have great potential in the research and development of drug carriers, as well as in tissue engineering and diagnostic tools.
The photoresist materials in lithography are used as either the base layer in experiments or as the surface on which biocompatible materials are embossed. With DaLI's ability to precisely control illumination parameters, various textures with different physical properties are achieved according to the desired level of control in biocompatibility, flow, or friction.
Recognizing the challenges faced by researchers, miDALIX designed DaLI with an intuitive software system that can significantly decrease prototyping time and provide cost savings. The software comprehensively covers everything from design to illumination, and the system enables direct-write lithography with a high aspect ratio and multilayer structures.
The full PC control feature also allows for greater flexibility in research and development. With an accompanying CAD library, DaLI facilitates designing from scratch or modifying ready patterns even on computers that have not been connected to the system.
More information about the DaLI technology can be found at
https://midalix.com/technology
miDALIX was founded by a group of European scientists and engineers who focus on harnessing advances on various technologies and applying them to the field of micro-structuring and material processing.
According to a spokesperson for the company, "Our goal is to equip scientists with systems which allow them to do science, not only experiments."
Interested parties can learn more at
https://midalix.com/applications
Release ID: 89048050