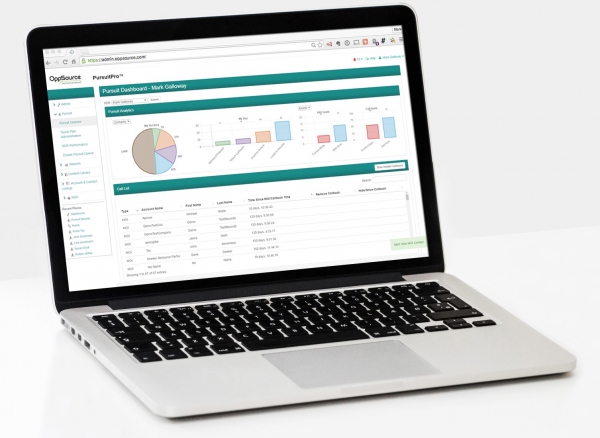 - May 9, 2017 /PressCable/ —
The term "prospecting" may conjure up thoughts of men heading out West in search for gold. In today's sales departments it means a search for something just as valuable – revenue-generating customers.
Sales prospecting is the search for potential customers, clients, or buyers in an attempt to draw new business to a company. The idea is to move prospects through the sales pipeline until they become customers. Such a task increasingly requires not only effective sales development representatives but sales prospecting software like OppSource Pursuit Pro as well.
The sales development representative is today's sales prospector. Sales development representatives are inside sales reps who search for prospective customers. Often these prospective customers may not have even had enough interaction with a company to be considered a potential lead.
Relying on only cold calling to find these prospects is like searching for gold today with only a pickaxe. Technological advances have completely changed the game as sales development representatives rely upon researching and contacting prospects online. SDRs must have the right software to complete the task.
Companies use sales prospecting software like OppSource to track new sales opportunities that grow business. Sales prospecting software stores all of a sales team's information in one centralized database to help reduce redundancies and keep day-to-day activities organized. Sales teams have access to essential metrics like target market sectors, customer purchases and gross profit margins that help them track and analyze prospects.
The OppSource PursuitPro Sales Development Platform automates and organizes sales development processes so that SDRs have the power of sales data at their fingertips. It manages the prospecting process so that it can be scaled across a large SDR team. That enables sales teams to pursue account-based sales-ready opportunities that generate business.
Three B2B sales and marketing veterans founded OppSource to give salespeople the ability to efficiently and cost-effectively gather quality leads. It tracks whether sales teams are on target to meet their goals and allows them to continually search for new customers to continue meeting those goals.
OppSource's sales development dashboard organizes SDRs' daily prospecting goals and enables them to build sales development campaigns that let them consistently stay on top of leads. They get moment-of-interest alerts that improve connect rates by up to 9 times by alerting them when prospects are most likely to become qualified leads.
Today's gold for companies is finding those sales ready opportunities. OppSource PursuitPro is designed to enable them to do so.
For a free demo or more information about OppSource PursuitPro, learn more at https://www.oppsource.com/sales-prospecting-software or call 1-877-742-8880.
Release ID: 195681