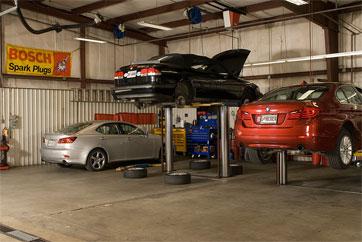 - June 26, 2018 /PressCable/ —
Smyrna, GA car repair shop Motorcars International Inc releases information on how to prepare for summer driving season with pre vacation trip inspection recommendations. Further information can be found at https://motorcarsintl.com.
Walter Wiesboeck, long-time industry veteran and owner of Motorcars International Inc, states: "There are a number of steps that can be taken at home to prepare before a road trip. Some of these include checking/topping off fluid levels and tire pressures, and verifying that all external lights are functioning. Packing jumper cables/jump box, a jug of water, extra coolant, and oil are recommended items to carry on the trip. Having an idea of where some reliable shops are located along your route is also a smart preparation step – we recommend searching for authorized Bosch Car Service centers along your planned route".
Walter goes on to add: "If one doesn't have the time, knowledge, or inclination to do some of these checks at home, a Pre-Trip Inspection is a great way to buy yourself peace of mind for the journey ahead. Road trips don't have to be stressful when you know that your car is safe."
Motorcars International offers a comprehensive Pre-Trip Inspection to ensure the vehicle is ready for a summer vacation trip. They provide inspection of BMW, MINI, Audi, VW, Acura, Honda, Lexus, Toyota, and Saab vehicles, a comprehensive service that will have car owners back on the road in about an hour.
The pre-trip inspection includes: inspecting hoses and clamps, checking/topping coolant level, pressure testing the cooling system, checking accessory drive belts, checking/topping: engine oil, brake fluid, power steering fluid, washer solvent, battery water, transmission fluid, differential oil, checking brakes, checking tires, adjusting tire pressures, testing A/C operation, checking windshield wipers, checking washer operation, checking exterior lights, checking horn operation, and test driving the vehicle.
From now thru August 31, 2018, Motorcars International is offering 50% off of a Pre-Trip inspection: visit the website at https://motorcarsintl.com/specials to view the coupon terms and conditions.
Motorcars International Inc offers a full rage of auto maintenance and repair services for BMW, MINI, Audi, VW, Acura, Honda, Lexus, Toyota, and Saab vehicles and is conveniently located to the Smyrna/Vinings/Marietta areas just north of Atlanta.
Release ID: 365607