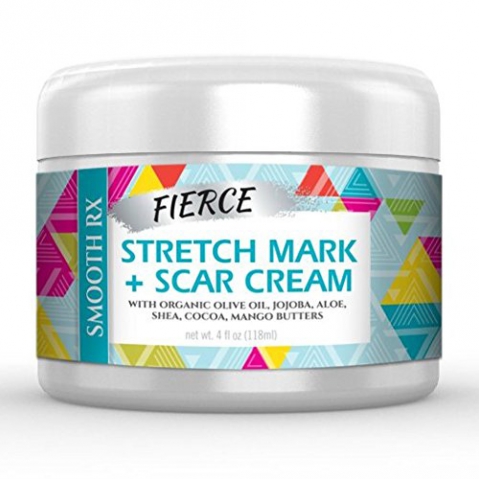 - January 26, 2017 /PressCable/ —
As SmoothRx approaches the two-year anniversary since the launch of their best-selling stretch mark and acne scar removal cream, company spokesperson Ashley Royal issued a statement concerning some new discounts that are being considered for their scar removal cream.
"What we have found from customer feedback is that although our scar removal cream is great for helping to fade current scars and stretch marks, the moisturizing properties of the cream do an amazing job of hydrating the skin," said Royal. "This can help the formation of fine lines, as well as new stretch marks or scars. We want to offer a discount for the cream for these customers who want to continue using the cream on a monthly basis. We are considering a subscription type service or a few other discount possibilities."
The SmoothRx stretch mark and acne scar removal cream is sold in a 4-ounce jar. Each jar is packed with all natural ingredients such as mango butter, aloe, rose hip seed oil, shea butter, jojoba oil, grapefruit seed extract, orange oil, cocoa butter and more.
Designed for men and women everywhere struggling with acne scars and stretch marks, the acne scar treatment cream is already in the homes of thousands. With the new, lower price point, SmoothRx hopes to make the cream affordable for more.
Over 150 reviews have been written on Amazon.com for the SmoothRx scar removal cream. Danielle F., a verified purchaser, wrote a five-star review that said "I used this throughout my pregnancy without any stretch marks. Towards the end, I got lazy about it, and that's when I got the stretch marks. I've been using it post-partum on them, though, and they are definitely going away. I love how this smells, and it absorbs quickly. I also started using this on a scar on my foot, and it seems to be helping fade it away."
This scar cream is currently priced at $19.95, and is available for purchase on Amazon.com, with free shipping on orders over $49.
About SmoothRx: "SmoothRx makes premium scar creams for stretch mark removal, acne scar removal, fine line removal, spider vein removal, and general scar removal. Made in the United States, we only use premium natural ingredients such as orange oil, grapefruit seed extract, shea butter, cocoa butter, and more. We sell primarily on amazon.com and hope to improve the lives of those who are troubled with scars and other cosmetic hindrances."
Release ID: 164669