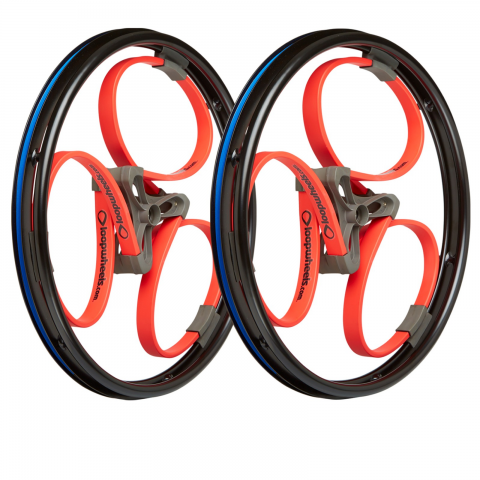 - November 14, 2017 /NewsNetwork/ —
Wheelchair uses can enjoy a smoother ride with Loopwheels (800) 370 6808. Loopwheels recently launched a wheel carbon composite suspension system that absorbs road noise and increases propulsion.
Commerce City, Colorado-based Big Josh's Medical Stuff LLC, a reseller of health products that make life easier, announces the launch of Loopwheels, the future of wheelchairs. Giving wheelchairs a smoother ride even over curbs, cracks and everyday bumps.
More information is available at http://loopwheels.online.
Recently launched, the Loopwheels reduces bad vibration for wheelchair users. This jolting has been a problem since the invention of the wheel and while the answer was obvious – add suspension to reduce vibration – no-one came up with the right solution. Instead, they produced cumbersome add-ons, increasing weight, reducing propulsion, and adding to maintenance costs.
But the Loopwheels, an inventive and practical solution, has resolved previous issues with carbon composite springs that replace the spokes of the wheel. These springs constantly adjust as the wheel rolls over any changes in terrain, absorbing shocks.
Compared to standard spoke wheels Loopwheels reduced vibration by 243%. As such, the patented shock absorbing coils capture energy as the wheel moves over uneven surfaces and transfers this energy to the wheel's movement making propulsion easier.
Loopwheels are the brain-child of Sam Pearce, a determined mechanical and industrial engineer with a vision to reinvent the wheel. Sam, along with his team, developed and tested the Loopwheels, then sought backing through Kickstarter to raise enough funds to manufacture their progressive design.
When asked about the Loopwheel, a spokesperson for the company said, "According to research wheelchair users are prone to experiencing whole-body vibration due to sitting for long periods. The Loopwheels overcomes this vibration by absorbing as much as two thirds of this vibration with carbon composite springs that have 70mm (2.75 inches) of suspension travel. Thus, the Loopwheels reduces jolting, softens impact and helps manage pain."
To find out more about Loopwheels, call (800) 370 6808 or visit the link above.
Release ID: 263886