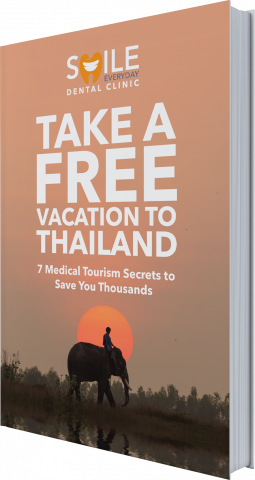 - February 28, 2019 /NewsNetwork/ —
Smile EveryDay Dental Clinic has today released a free report titled: "Take A Free Vacation in Thailand". This report aims to inform dental patients about Dental Tourism and give them options on how to save thousands of dollars. It also aims to give a 35% discount on Invisalign braces and free vacation in Thailand.
The report has been made openly available and at no cost by Smile EveryDay Dental Clinic. It's available to the general public, thought leaders within the Orthodontics market and anyone with an interest in Travel and vacation in Thailand.
The report was also written with a specific focus on Dental patients and tourists since Doug Crowe, author of the report, believes "Dental patients can have affordable and quality dental procedures elsewhere while enjoying their vacation in beautiful foreign places at the same. We are here as a guide and to provide them useful information about Dental Tourism."
When asked about why they released the report at this time, Dr. Tanawat Sangpaiboon, Founder and Managing Director at Smile EveryDay Dental Clinic said: "As Medical Tourism is becoming well-known, the Take A Free Vacation in Thailand eBook will help dental patients to discover more about medical tourism and how they can take advantage of it. Through this eBook, we are also offering a 35% discount on Invisalign braces and a free trip to Thailand.."
Interested parties can find the report ready to download, for free, at https://topbangkokdentist.com/
Smile EveryDay Dental Clinic was founded in 2012 and became one of the leading dental clinic in the region having the latest and state of the art technologies, facilities and procedures within the Orthodontics industry. It is best known for its expertise and quality service. It is also known for having a presentable and friendly staff.
Its unique position within its industry gives it the authority to produce such a report on Medical Tourism and Dentistry because of its expertise in the industry and has served several foreign patients because of its popularity.
For example, as the report aims to solve the high-cost of dental procedures and services, it gives valuable information to the reader that will ultimately benefit them by learning that they have a choice not to spend much for the service and a huge option of beautiful places where to avail it. This insight simply wouldn't be possible, or their advice nearly as effective, without the 6 years spent in the Orthodontics world so far.
More information on Smile EveryDay Dental Clinic can be found at http://TopBangkokDentist.com
The Report "Take A Free Vacation in Thailand" can be downloaded at https://topbangkokdentist.com/
Release ID: 486660