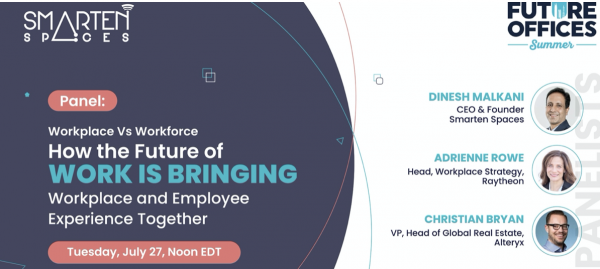 - July 29, 2021 /PressCable/ —
CEO of Smarten Spaces Dinesh Malkani recently participated in the Future Offices Virtual Summer Conference on a panel discussing the future of work. Smarten Spaces is a digital workplace technology revolutionizing the transition of work and reconceptualization of the office into a more hybrid environment, and as such, he is an expert on the subject.
The "Workplace vs. Workforce: How the Future of Work Is Bringing Workplace and Employee Experience Together" panel discussed the impact of the Covid-19 pandemic on the workplace. "Covid-19 has fast-tracked strategic workplace initiatives to address a dispersed workforce and fuel digital transformation," Malkani says.
The Covid-19 pandemic has been a wild ride, with companies forced to quickly adapt and establish new work protocols and arrangements to keep operations running while ensuring staff and customer safety. Now businesses are facing an entirely new set of challenges as they contemplate their employees' return to work and are trying to identify common mistakes to avoid.
"The modern office was designed around productivity at its core. But the Covid-19 pandemic triggered a fundamental shift away from this assumption," Malkani points out in a recent Forbes article. "Almost overnight, safety took precedence over productivity. As organizations shut their offices to protect their employees, cubicles and cabins gave way to kitchen tables and bedrooms in what was the greatest experiment in working from home in human history."
As restrictions in many places ease, vaccination increases, and the world moves into a new phase of the pandemic, companies are faced with a range of options on how to follow up on this great WFH experiment. How, when, and whether to reopen physical offices, and how many employees to bring back into them remain top of mind.
It is tempting to simply assume a return to normalcy and recall workers to continue exactly where they left off. But such an approach is unrealistic. The world is still in a pandemic, even as things ease. Office spaces must be rigorously monitored to enforce health regulations—health screening, face masks and PPE, social distancing, improved air quality, as well as enhanced and regular cleaning.
Since March 2020, employees have filed over 3000 lawsuits against employers over COVID-related labor violations. Mitigate these risks by implementing environmental infection control strategies to minimize touchpoints: contactless access control, employee self-service applications for healthcare declarations, and contact tracing, for starters.
Most experts agree that a hybrid WFH/office model will be the new norm. Hybrid work environments can have a hugely positive impact on business. "In a hybrid workplace, flexible work options will enable some to continue working remotely while allowing others to either work in the office or shuttle between both," Malkani says. "Further, the post-Covid office will need to be redesigned with a focus on safety and hygiene."
Moments like the Covid-19 pandemic, Malkani suggests, present an opportunity to implement long-lasting changes to better prepare for the future. In the workplace of the future, technology will drive productivity and offer a wide variety of work-life integration options. To remain ahead of the curve, companies need to integrate new tech into business processes to ensure the safety and well-being of employees and simplify the complexities of hybrid working arrangements.
One lesson gleaned in the pandemic is that a great deal of work can be produced at home. Doing so provides workers added flexibility when accomplishing tasks—allowing them to better balance work and home life while sparing them the time and expense of a commute.
According to a recent Smarten Spaces poll, 47% of employees want flexible working conditions, and 73% of employees want flexible remote work options to stay. Although not every job can be performed in a home environment, a prudent organization will seek hybrid workspaces, divided between in-office time and working from home. The right workplace technology can easily facilitate such a transition when returning to work. To do otherwise is to risk losing skilled employees—especially millennials and younger workers—and possibly violate established safety regulations and give rise to costly lawsuits.
At the heart of employees' need for increased flexibility is the understanding that every worker is different. What helps 'Matt' be effective may be actively disruptive to 'Deepa.' Traditionally, those concerns were overlooked owing to the needs of a communal workplace and the nature of the 8-hour workday. COVID-19 has effectively put that approach to bed, as the world pivoted to balance immediate health and safety with quickly shifting workplace duties.
Some people functioned effectively at home, while others proved less productive and more distracted. Some units coordinated better and were more responsive working virtually; others lagged. Some craved the social interaction of the office, while some thrived in solitude. These distinctive and contrasting scenarios make it clear that a one-size-fits-all approach is illogical when employees' workplace needs are so different.
Hybrid workplaces are here to stay. As COVID-19 abates and businesses establish new workflows, it makes sense to invest in establishing work environments the smart way. "History suggests that investing in one's business during a recession ensures that it will thrive when the tide turns," Malkani says.
Smarten Spaces can help businesses make that investment. Smarten Spaces offers the latest workplace technology to help automate tasks with AI-based recommendations and scheduling, and optimize each space in sync with the unique hybrid needs of a company's workforce.
Smarten Spaces' digital workplace technology includes a range of features that enables a simple and direct approach to any logistical challenge. Worker management features allow employees to organize meetings and reserve conference space and desks, as well as finding the best combination of office hours and work-from-home features. Smarten Spaces' technology projects the total demand for office real estate, analyzes the consumption of space and automates the entire request-for-space process.
"Before 2020, it may have been tempting to believe that digital transformation was years away," Malkani says. "We inhabit two worlds today, the physical and the digital. As companies reopen offices, they must find ways to balance the two." Smarten Spaces can help find that balance.
Release ID: 89039225