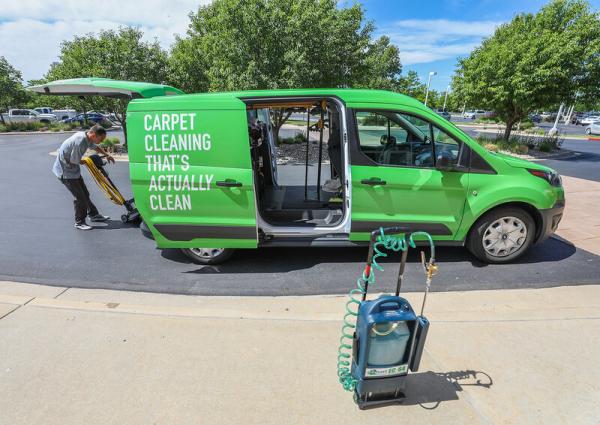 - October 16, 2020 /PressCable/ —
Fort Collins, CO—Smart Carpet Cleaning http://www.smartcarpetcare.com, servicing Windsor, Fort Collins, Greeley and Northern Colorado, currently uses the static-attraction method in all of its services for commercial and residential customers.
This technology was developed in 1991 and has been used for commercial and residential cleaning since. It is also used in coastal regions, mountain areas, and deserts, and in some of the most challenging parts of the country such as Las Vegas casinos and rental properties.
Static-attraction method does not leave a static charge and will not cause any shocks. It's also safe to use around computers and electronics, even slot machines, and will not affect these machines and their performance.
Smart Carpet Cleaning specializes in their SMART® Process shown at https://smartcarpetcare.com/about/. Compared to steam cleaning, this process ensures that carpet stays looking clean days after treatment. Additionally, this system has a shorter drying time, avoids chemical or foul smells in the air, prevents spots from returning, eliminates "crunchy carpet," and prevents carpet roll and seam splitting. It uses 1/10th the amount of water as traditional steam cleaning and uses a fraction of the chemicals and no pre-sprays. Using the unique static-attraction technology allows the process to remove soil and residue while leaving carpets virtually moisture-free.
The chemicals Smart Carpet Cleaning uses are non-toxic to humans and aquatic life. No petroleum solvents or phosphates are used and these are pH-neutral. SMART® uses only 6 ounces of its proprietary static-attraction formula to clean an average house. Avoiding pre-sprays cuts down on the chemicals used and also minimizes residues left in the carpet. SMART®'s service vehicles use 30% less fuel than the average industry vehicle and no fuel such as propane or kerosene is used to run equipment; only electricity is used. There is no need to turn on heaters, open windows, or use ventilation systems to dry out the carpet and carpets will dry within 30 minutes with windows closed.
Smart Carpet Care's commercial services include carpet cleaning for property management, hospitality, senior living, and real estate clients. The company also works with residential customers throughout the region and utilizes the SMART® process for all cleaning projects. Free quotes are available online at https://smartcarpetcare.com or through phone and in person consultation.
For information, contact:
Smart Carpet Cleaning
Address: 609 Gyrfalcon Ct Unit A, Windsor, CO 80550
Phone: (970) 674-3355
Website: https://smartcarpetcare.com/
Google Short Name: http://g.page/smartcarpetcare
Map: https://www.google.com/maps/d/edit?mid=1MM_hgw3QUMMWHYpeeGTkAJ9Yk4qAGjMM&usp=sharing
Facebook: https://www.facebook.com/smartcarpetcare
Release ID: 88980910