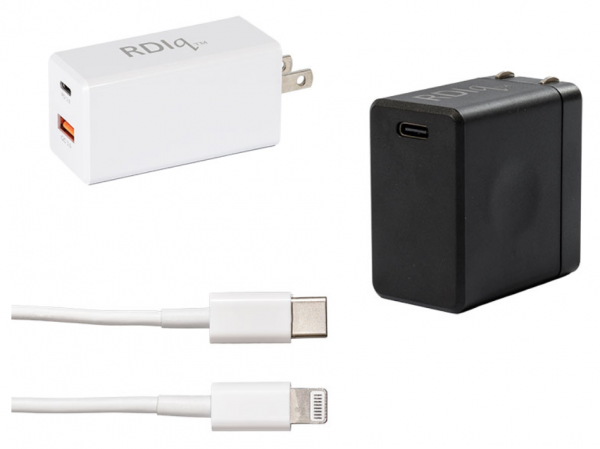 - July 22, 2020 /PressCable/ —
RDI Inc, a leading New York based company in the custom electronic components space, has launched the RDIq brand of specialized USB PD chargers designed to charge multiple smartphones up to 3-times faster than standard mobile device charging systems. RDIq uses Gallium Nitride transistors, or GaN in the powertrain, enabling the smallest, multi-charge USB charging platforms available today in 30W, 45W, 65W and 100W power formats. All devices are available now on the RDI product website.
USB PD (Power Delivery) is the latest USB power format and is the fast charge technology supported on Apple products. USB PD is delivered via the USB Type C cable and is designed to allow smart USB power devices to interrogate USB PD chargers and negotiate the voltage and current levels presented to the battery for fastest possible charge. This flexible approach to delivered charger power allows mobile devices to charge at their fastest possible rate while staying within the safe zone of the battery's charge profile.
RDIq chargers also support Qualcomm's competing Quick Charge (QC) technology. QC 3.0 is the preferred charging technology on Android and Goggle smartphones. Each charger in the RDIq family is equipped to charge QC.30 devices, and up to four QC equipped smartphones can be charged simultaneously.
Sandy Templeton, RDI's digital marketing spokesman said "The RDIq range of smart, efficient chargers represents a new opportunity for customers to charge multiple phones at one location. A single 100W charger can now be used to charge up to four independent smartphones of different makes and models very quickly."
Templeton added "The clutter of cables and chargers we're all used to in our offices and homes can now be eliminated."
The secret to RDIq's reduced size over conventional chargers is the use of GaN transistors over MOSFETs. These transistors switch at a faster rate and have lower losses than their venerable counterparts and are at the forefront of big changes in power technologies in many applications.
RDIq also addresses the needs of world travelers who frequently have to carry transformers to step down line voltage in the country being visited. A wide input range of 100V to 240V AC allows users to plug the device in without having to worry about the voltage rating.
Release ID: 88969597