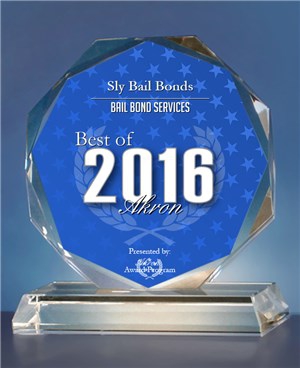 - January 22, 2017 /PressCable/ —
Akron Award Program Honors the Achievement
AKRON October 21, 2016 — Sly Bail Bonds has been selected for the 2016 Best of Akron Award in the Bail Bond Services category by the Akron Award Program.
Each year, the Akron Award Program identifies companies that we believe have achieved exceptional marketing success in their local community and business category. These are local companies that enhance the positive image of small business through service to their customers and our community. These exceptional companies help make the Akron area a great place to live, work and play.
Various sources of information were gathered and analyzed to choose the winners in each category. The 2016 Akron Award Program focuses on quality, not quantity. Winners are determined based on the information gathered both internally by the Akron Award Program and data provided by third parties.
Anthony Sylvester owner and founder of Sly Bail Bonds has been a bondsman for over fourteen years and has an extensive portfolio of bonds which he has written over the years. He has built his business on honesty and loyalty, creating solid relationships and is known for his reliable reputation within the Industry. Sly Bail Bonds also has a team of professional, dependable Bail Bondsmen in most local markets in north east Ohio.
Tony Sylvester is a graduate of Massillon Perry High school Class of 1996 where he excelled in Wrestling; Placing 3rd nationals in 1996. After graduating high school, Tony went on to earn his bachelors in Sociology and Criminal Science from The Ohio State University where he also wrestled for four years becoming a two time letterman for the Buckeyes. After Graduating from Ohio state in 2001, Tony decided to pursue a career as a professional prize fighter. While in his travels in the fight game, Tony was first exposed to the bail industry through a mutual friend and in 2002 obtained his surety bail license entering the industry of fugitive recovery. While still maintaining an active fight schedule, Tony decided to also enter the bail bond end of the business and after over six years as a bondsman he founded Sly Bail bonds in 2008 while earning his master's degree in Criminal Justice Administration. Since that time Tony has focused on creating a full service 24/7/365 Bail Bond company that services all of Ohio. He has found great satisfaction in working with other bail bondsmen in order to help ensure their success.
After being in the bail industry for over a decade, Tony still spends his free time maintaining his training as he continues his passion for the mixed martial arts (MMA). As his professional career begins to wind down, Tony spends more of his time immersed in not only the day to day activity of the bail bond business, but also on finding like minded motivated bail agents that are in need of a managing agency to assist in their business. He enjoys trying to give back to the industry that has in turn given him so very much over the years.
About Akron Award Program
The Akron Award Program is an annual awards program honoring the achievements and accomplishments of local businesses throughout the Akron area. Recognition is given to those companies that have shown the ability to use their best practices and implemented programs to generate competitive advantages and long-term value.
The Akron Award Program was established to recognize the best of local businesses in our community. Our organization works exclusively with local business owners, trade groups, professional associations and other business advertising and marketing groups. Our mission is to recognize the small business community's contributions to the U.S. economy.
SOURCE: Akron Award Program
Release ID: 163480