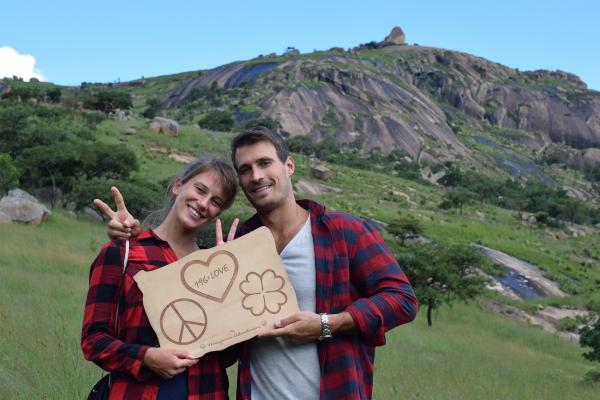 - September 21, 2019 /PressCable/ —
Carmen and Matic, a young married couple from Slovenia and founders of Honeymoon Adventurers, announced their record-setting project called 196xLove. The couple plans to visit all 196 sovereign countries in a global journey promoting environmental awareness, peace and love through a variety of activities.
More details can be found at https://honeymoonadventurers.com/196xlove.
The couple's global journey has begun on August 31st 2018, and they have already covered 65 countries, including all 54 African countries. Their most recent destinations include Belgium, Montenegro, Slovakia, Bosnia and Herzegovina, Hungary, Cape Verde, Central African Republic, and Angola.
Carmen and Matic's project aims to promote environmental sustainability by planting trees wherever possible. This is, in part, an effort to offset their carbon footprint, as well as an attempt to promote practices with a positive impact on the environment. They have connected sustainability, peace, and love unlike anyone before and are presenting them as core values.
In total, the couple plans to plant thousands of trees in all areas where the conditions permit it, all while documenting their effort through powerful Instagram stories and other social media campaigns. They also share their adventures on their blog at https://honeymoonadventurers.com.
To further reduce their carbon footprint, the couple will not eat lamb, pork or beef on their journey. They will also use environmentally friendly products, minimize their water usage and their waste, and choose ethical tour operators. Wherever possible, they will also choose sustainable accommodations, eco hotels, lodges and resorts.
By engaging in random acts of kindness and promoting positive interactions with the communities they visit, Carmen and Matic aim to promote global peace and cooperation beyond the boundaries of race, religion, or ethnicity.
Finally, they aim to promote love as the driving force behind modern society.
The couple said: "By reaching sustainability and ensuring peace we make way for love to be the driving force of our society. We will promote love by searching for the most romantic destinations and by engaging in the most romantic activities. With visual content from all across the globe, we will prove that love is, in fact, all around us."
Interested parties can find more information by visiting https://196xlove.honeymoonadventurers.com/support.
Release ID: 88919302