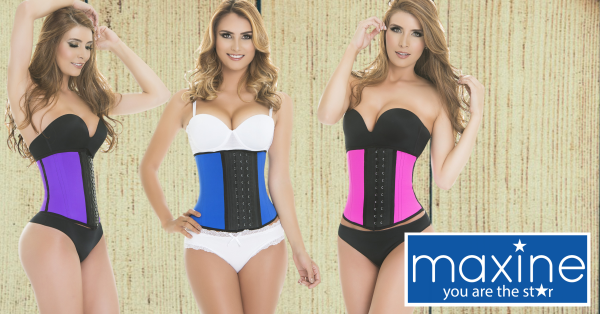 - February 15, 2017 /PressCable/ —
Slim Fashion Trading, LLC recently announced the introduction of a new Maxine Sport Waist Shaper series, with some minor design improvements that aim to deliver the best experience possible to women who are looking forward to improving their shape and confidence.
The waist shaper is sold exclusively on Amazon.com and the offer allows more women to get the product and off course, the body shape they have always desired. Maxine Sport waist shaper is one of the fitness products from Slim Fashion and unlike other waist trainers in the market, this waist trainer does not only help the woman look fit and attractive, but it is also made with quality materials to ensure its durability.
With over 97 positive reviews on Amazon from customers since it was exclusively launched on the site, Maxine Sport for waist training has helped women of different sizes and origin to remain attractive and stay healthy all day every day.
Maxine Sport is available in three different colors: purple, pink and blue, with different sizes ranging from X-Small to XXXXX-Large.The different colors of the cinchers ensure that women can fully maximize their closet regardless of the kind or color of dresses in it. If they so choose, women can wear the waist cinchers out in the open, on top of their clothes, though most women opt to wear them underneath their clothing, while people are unaware of the fact that they are using something to improve their looks and self-esteem.
Maxine Sport is perfect for orthopedic and aesthetics purposes, thanks to its unique attributes, making it the best alternative for quick flattening of the abdomen and accentuation of the waistline. Aesthetically, each and everyone of the waist cinchers in Maxine's catalog, will make women look their very best by slimming their waistline and correcting their overall posture, straightening and lengthening their back. This last piece of news is particularly noteworthy, considering the fact that many people don't usually pay attention to their posture while standing or sitting, which is in itself something detrimental in the long run to anyone's health.
Also referred to as corsets, Maxine Sport Waist Cincher does more than just correcting the posture and helping women shed unwanted fat deposits in the body, but it also serves as a form of confidence booster, bringing out the star in every woman, the primary mission of Slim Fashion, the makers and exclusive distributors of Maxine Sport.
Maxine Sport is particularly designed for working out at the gym or outdoors, but it can also be worn as an everyday item, though is not recommended that buyers wear them for long stretches of time, at least at the beginning, when they haven't gotten used to the cinchers just yet. It is best to gradually ease into them, until they feel comfortable wearing them for a few hours at a time. The handcrafted shapewear works it magic immediately when worn, guaranteeing instant and effective results. Made with the highest quality materials available, the trainer has an inner layer made from 95% cotton, with spandex material taking the rest. This ensures that the wearer feels an extra comfort while it is worn.
The outer layer of the cincher is 100% natural latex, providing the optimum pressure needed to control and shape the waistline to give that desired hourglass figure. The cincher also helps to breakdown fat deposits in the tummy region as the latex material elevates the body temperature, helping the body's ability to burn body fat.
Maxine is It is a win-win situation for women with the 30% discount offer available exclusively on Amazon.com. Interested persons however need to rush on or before the 31st of March to enjoy this amazing opportunity to get probably the world's best waist trainer at a remarkably reduced price.
Release ID: 169472