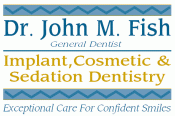 - January 15, 2020 /PressCable/ —
Dr. John Fish, DDS, a cosmetic dentist and implant specialist as recognized by the American Board of Dental Specialties, provides an effective treatment for sleep apnea. Based in Hildebran, NC, Dr. John Fish, DDS has helped patients throughout the greater Hickory, NC area to get better sleep on a nightly basis.
The office of Dr. John Fish, DDS has recently published a blog post on its website explaining what sleep apnea is and highlighting treatment options. The full post can be read here: https://www.johnfishdds.com/sleep-apnea-treatment/
As the post mentions, Continuous Positive Airway Pressure, known as CPAP, is the most common form of sleep apnea treatment. However, many patients find this form of treatment to be uncomfortable and ultimately give up on it. CPAP involves wearing a mask attached to a machine at night while sleeping. The machine works to deliver air pressure to the patient through the mask, which keeps the patient's upper airway passage open and prevents sleep apnea. But wearing a mask at night can often be the cause of a night of restless sleep, too.
Oral Appliance Therapy is a sleep apnea treatment that can be used as an alternative to CPAP. From the post published on Dr. John Fish, DDS's website, Oral Appliance Therapy "involves the patient wearing custom-made mouthpieces (oral appliances) at night. The mouthpieces keep the patient's lower jaw shifted slightly forward which helps to prevent blockage of the airway by allowing more room for the soft tissues of the throat."
Anyone residing in the greater Hickory, NC area that is suffering from sleep apnea is encouraged to get in touch with the office of Dr. John Fish, DDS as soon as possible. Dr. Fish has practiced cosmetic dentistry for over 25 years and is trained and experienced with treating sleep apnea in individuals suffering from the disorder. His office can be reached by calling 828-397-5514 Monday through Thursday from 8:00 am until 4:00 pm.
Release ID: 88942807