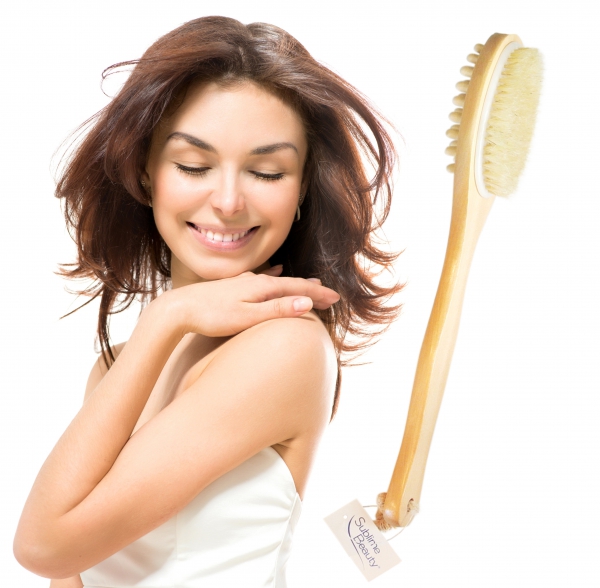 - November 8, 2016 /PressCable/ —
6 POWERFUL tips are offered by Sublime Beauty, to help improve wellness and beauty of skin. For a LIMITED TIME, Sublime offers a 10% Amazon discount on its Skin Brushes to get started.
WHY SKIN BRUSHING IS RELEVANT NOW
The simple technique has long been overlooked, but is now used today most often by models, actresses and spa enthusiasts. Skin Brushing, also known as Body Brushing, Dry Brushing or Lymphatic Brushing, is a practice that improves skin, circulation, lymphatic movement (for a better immune system) and more beautiful skin. The skin is the body's largest organ, very important for elimination of toxins and for health defense.
6 POWERFUL BENEFITS OF SKIN BRUSHING
Sublime Beauty focuses on wellness and improving skin health. The company shares 6 powerful benefits of Body Brushing:
1) Keeps the skin clear, allows it to glow and function as it should. Skin Brushing will reveal a softer, more glowing and more functioning skin.
2) Skin Brushing will improve and benefit blood circulation. This is so important for good health, delivering nutrients throughout the body and better skin tone.
3) The Lymphatic system will be a strong beneficiary of Skin Brushing. The lymph system does not have a pump like the heart for the blood, and relies on muscle movement, massage or something like Body Brushing. Daily brushing will help the lymph system move, drain and will support the immune system.
4) Helps muscle tension and stress. The simple act of Skin Brushing is a stress-buster!
5) Cellulite management. Skin Brushing helps to break down the fat deposits and toxins under the skin that cause dimpling, and help to flush them away. Of course, additional attention is needed to handle cellulite but brushing the skin can help with maintenance. (Sublime Beauty offers organic Cellulite Whisperer® products.)
6) Detoxifies the body.
Sublime Skin Brushes are now back on Amazon, and for a LIMITED TIME, offered at a discount. Sublime Beauty® feels so strongly about the benefits of Skin Brushing that it is offering a special rare 10% off discount for its brush (supplies limited) on Amazon. Simply use the code: BRUSH1XS when purchasing the SKIN BRUSH. A HOW-TO Brochure is sent by email after purchase!
Want to know more about the subject of SKIN BRUSHING first? Visit the Sublime Skin-Brushing.com content site!
ABOUT: Founded by Kathy Heshelow, Sublime Beauty® is a French-inspired company that focuses on skin care and quality anti-aging products. Everything is available on its webstore SublimeBeautyShop.com and on Amazon.
Release ID: 141043