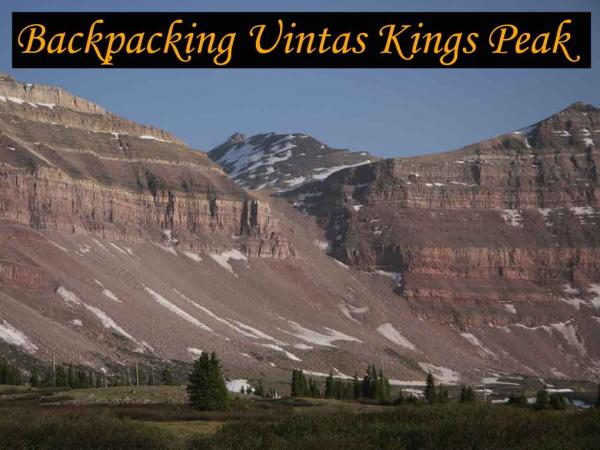 - September 14, 2018 /PressCable/ —
Professional ski instructor from Park City has published a new article on TheOutdoorClick titled "Backpacking Uintas Kings Peak and the surrounding 13,000 ft Peaks". The article sheds light on the important aspects of backpacking the highest mountain in Utah and the surrounding high peaks above 13,000 feet in elevation. People who are interested in adventure articles, backpacking, nature photography, and stories can view the full article at: Backpacking Uintas Kings Peak Utah
The article includes several interesting pieces of information, one in particular is Dollar Lake makes a great base camp location for summiting Kings Peak and 2 other high peaks that rise above 13,000 feet in elevation. Gilbert and Gunsight peaks. This should be of particular interest to high point hikers because Dollar Lake in the Henry's Fork basis is where you go to hike some of the highest peaks in Utah.
One of the most important pieces of information the article tries to convey is what to expect when backpacking Henrys Fork and hiking some of Utah's highest peaks in the early summer season. The best example of this is perhaps found in the following extract:
Early June in the High Unitas there are, no people, no bugs, However; you have to deal with cold mornings and icy conditions.
In discussing the article's creation, Chris Comstock Park City Utah photographer, ski instructor, and author of TheOutdoorClick said:
"I wanted to tell the story of what it's like backpacking solo and show the awesome mountains of this area through photography."
Regular readers of TheOutdoorClick will notice the article takes a familiar tone, which has been described as 'adventurous'.
Chris at TheOutdoorClick welcomes comments and questions from readers in relation to the article, as he is intent on interacting with people who have a strong interest in backpacking. The reason is simply because this will help Chris Comstock, creator of ODC, craft the best content and provide the best experience for readers.
Anyone who has a specific question about a past, present, or future article can contact TheOutdoorClick via their website at http://theoutdoorclick.com
Release ID: 407401