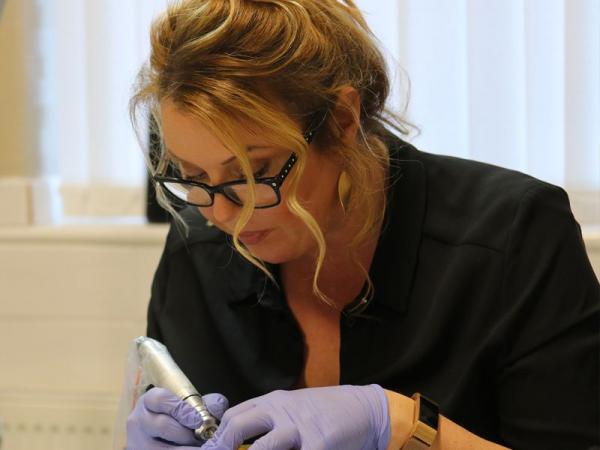 - October 12, 2019 /PressCable/ —
In response to an overwhelming requirement for treatments from the West Midlands, South Wales & the South West of England areas, the newest Skalptec clinic was launched recently in 2019. Michelle Watson, Skalptec's newest Lead Technician carries out scalp micropigmentation treatments from the Shrewsbury clinic.
Being Skalptec's newest clinic and located in the county of Shropshire, Michelle fronts a professional SMP service which strives for excellence and closely follows the Skalptec values. In the heart of Shrewsbury where all treatments are carried out in a beautiful regal Georgian property.
Michelle has many years of experience in the beauty industry and has already established herself as a semi-permanent makeup professional. She met with Terence Jones (Owner of Skalptec & Multi MPUK Award Winner) in 2018 at one of Terence's masterclass training sessions where Michelle's brother was having the treatment himself. From that moment Michelle was inspired to become a part of Skalptec the UK's leading scalp micropigmentation clinic.
Skalptec, probably the most recommended clinic for scalp micropigmentation in UK has a brilliant reputation for delivering superior quality scalp micropigmentation procedures to UK and overseas clients in the Netherlands. Skalptec clinics specialise in hair tattoo, hair transplant scar camouflage and all other related procedures. In terms of hair loss solutions, scalp micro pigmentation has become the world's leading growing hair loss solution.
Skalptec Shrewsbury provides clients with advanced modern SMP techniques, and great pride and care goes into providing cients with a quality service. Safe procedures are followed to bring effective solutions to a variety of hair loss problems. Skalptec's SMP techniques are safe and effective in resolving hair loss problems, both for men and women. SMP techniques with Skalptec require no drugs, donor hair, concealers, lotions or shampoos. Skalptec guarantees that scalp micropigmentation as a hair loss solution is 100% effective..
Services include SMP for scars, SMP for alopecia, SMP for women, SMP for longer hair and Repairing Bad Work for clients who have experienced bad SMP previously.
The scalp micropigmentation process involves placing small pigment deposits inside the scalp's upper dermis. With this, the client can have the look of having shaved hair follicles (a buzz cut). Combining thousands of small pigment deposits, the client will appear to have a full head of shaved hair. This way, instead of looking bald or having fading hair or a receding hairline for example, a styled shaved look becomes the final look. The pigments are usually applied to the scalp over more than 3 sessions. Every session takes around 3 hours. So the scalp can heal, there should be a rest period from treatment of 5 to 7 days before the next session can start.
For those that have used countless drugs, lotion, shampoos and other solutions that claim to help hair loss, Skalptec provides the most effective solution in the form of scalp micropigmentation (SMP). Safe and relatively pain-free it brings quick and real results.
Skalptec has won many MPUK National Awards over the years and has some of the best micropigmentation technicians across the UK. More recently in 2019 Terence Jones was presented by MPUK, the national award for Best Scalp Technician in the UK. for the third time, whilst Ian Allen (Skalptec Newcastle clinic) was nominated.
Clients can expect outstanding results and the benefit of a shaved hair appearance that looks so real (examples can be seen on the Skalptec website). Consistent excellence has lead to clients marveling at their own experiences – they rate their own experience as the best all-around scalp micropigmentation service in the UK.
Getting to the Shrewsbury clinic: There are easy convenient transport links, and the clinic's environment both relaxing and stress-free. To book a consultation or if you would like some further information on the procedure, visit Michelle's page at https://www.skalptec.com/locations/shrewsbury/ and for enquiries please email info@skalptec.com or call 0845 625 0025 today. You can also call into the Shrewsbury clinic at the following address: 32 High Street, Shrewsbury Shropshire, SY1 1SF.
Release ID: 88927503