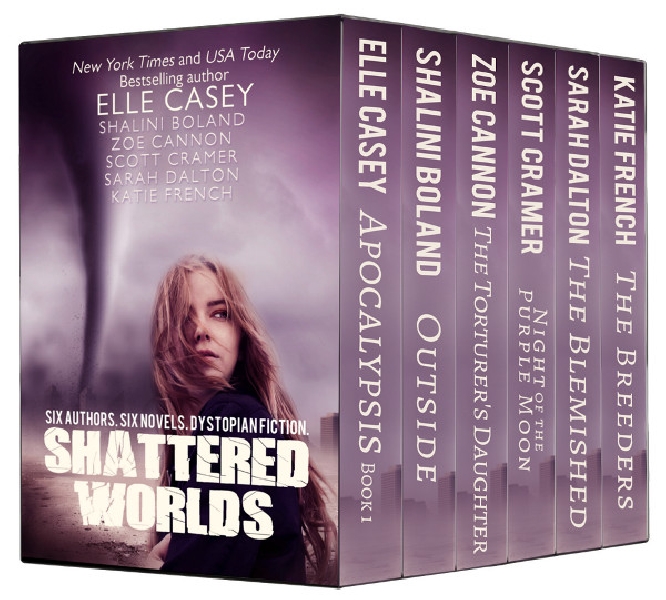 - December 5, 2014 /PressCable/ —
Readers of the young adult dystopian genre are in for a grand treat this winter as news comes into the Black Caviar Book Club news roomthat six extremely gifted YA authors from different parts of the globe havepitched together to showcase their wordsmith skills in box set.  Once news broke that the project had movedinto the editing stage, excited readers rushed to pre-order the box set fromAmazon, pushing the Shattered World's series ever closer to the top of theKindle book charts.
With New York Times and USA Today bestselling author ElleCasey leading the way with book 1 in the series titled, 'Elle Casey,' fans ofthe young adult genre will be able to  immersethemselves in post-apocalyptic civilizations and bleak near-futures where hopestill lives.
Elle is a full-time writer of New Adult and Young Adulttitles in several genres, including romance, urban fantasy, sci-fi dystopian,and action-adventure. She's an American girl who's been living in southernFrance with her husband and three children since 2010.
Shalini is the author of book 2, 'Outside' – Apost-apocalyptic romance thriller. Shalini lives in Dorset, England with herhusband and two noisy boys. Before children, she was signed to Universal Musicas a singer songwriter. Now, writing novels has hijacked her life and she isusually to be found with a laptop welded to her fingers and the house in apermanent state of neglect.
Zoe Cannon, author of Book 3, 'The Torturer's Daughter'writes about the things that fascinate her: outsiders, societies no sane personwould want to live in, questions with no easy answers, and the inner workingsof the mind. If she couldn't be a writer, she would probably be a psychologist,a penniless philosopher, or a hermit in a cave somewhere. While she'll read anythingthat isn't nailed down, she considers herself a YA reader and writer at heart.She lives in New Hampshire with her husband and a giant teddy bear of a dog,and spends entirely too much time on the internet.
Scott Cramer, author of Book 4, 'Night of the Purple Moon'has written feature articles for national magazines, covered school committeemeetings for a local newspaper, published haiku and poetry, optioned ascreenplay, and worked in high-tech marketing communications. His pursuit of agood story has put him behind the stick of an F-18, flying a Navy Blue Angels'fighter jet, and he has trekked through the Peruvian mountains in search of anancient Quechua festival featuring a condor. Scott and his wife have twodaughters and reside outside Lowell, Massachusetts (birthplace of Jack Kerouac)in an empty nest/zoo/suburban farm/art studio with too many surfboards in thegarage.
Sarah Dalton, author of book 5 grew up in the middle ofnowhere in the countryside of Derbyshire, UK and as a result has an over-activeimagination. She has been an avid reader for most of her life, takinginspiration from the stories she read as a child, and the novels she devouredas an adult. She is the author of the popular YA dystopia series 'Blemished'and the gothic novella 'My Daylight Monsters'. She is currently working on a YAFantasy series titled 'White Hart'.
Katie French, author of book 6 in the Shattered World'sseries, 'The Breeders' imagined herself an author when her poem caught the eyeof her second grade teacher. In middle school she spent her free time locked inher room, writing her first young adult novel. Though her social life suffered,her love for literature thrived. She studied English at Eastern MichiganUniversity, where she veered from writing and earned an education degree. Shespent nine years teaching high school English. Currently she is a schoolcounselor, doing a job that is both one of the hardest things she's ever doneand the most rewarding. In her free time she writes, reads great books andtakes care of her two beautiful and crazy children. She is a contributor andco-creator of Underground Book Reviews, a website dedicated to erasing theboundaries between traditional and non-traditional publishing. She lives inMichigan with her husband and two children.
With over 700 – 5 star reviews between them, this makes fora very exciting time in the YA book world.
Book Club breaking news: The Black Caviar Book Club is happyto announce that from the 15th December, 2014 readers will be ableto own the Shattered World's six book box set for the extremely low price of$.99 for a limited time.
Read The Young AdultDystopian Book Blurbs Here!
Release ID: 69801