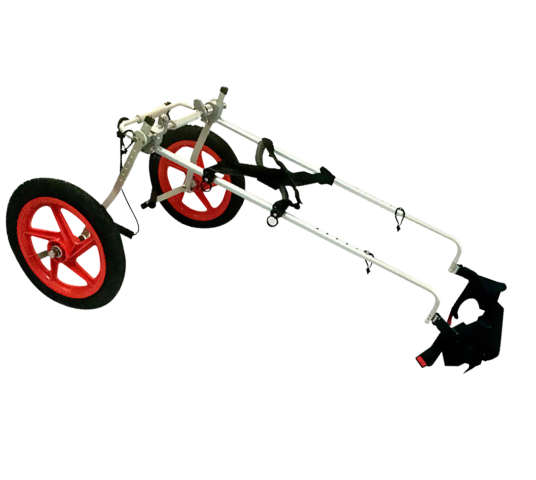 - February 2, 2021 /PressCable/ —
Pet Design Online, a retailer specializing in disabled, injured, paralyzed, and senior dog products, has launched the new SitGo Rear Support Dog Wheelchair by Best Friend Mobility. The product is the only canine wheelchair on the market that allows dogs to sit or lie down while attached.
More information is available at https://www.petdesignonline.com/sitgo-rear-leg-support-dog-wheelchair
The newly launched movement support cart aims to lengthen and improve the quality of life for dogs with a range of disabilities, including hip dysplasia, arthritis, neurological problems, rear leg amputation, abnormal eye movement, degenerative myelopathy, and more.
Wheelchairs can have significant benefits for both dogs' physical and emotional health. Movement support can help pets move around easier, toughen their functional limbs, and prevent other symptoms of deterioration. Additionally, by giving dogs the regained ability to play, walk, and socialize, wheelchairs can also improve their attitude and outlook.
The SitGo Dog Wheelchair is suitable for dogs of all breeds, including large dogs like Great Danes, Alaskan Malamute, and Labrador Retriever and smaller breeds like Corgis, Dachshunds, and Chihuahuas. The wheelchair is available in sizes XS to L in order to accommodate canines weighing anywhere from 2 to 120lbs.
With its revolutionary self-actuating design, the product allows animals to move around naturally with extended support.
The cart can be used for both walking assistance and full rear leg support without weight-bearing. Its built-in neoprene padded harnesses keep the animal balanced, safe, and comfortable.
Each order includes a complimentary instruction manual and assembly demonstration video to help owners assemble the wheelchair with ease. The product's flexibility allows for effortless height, length, and width adjustment.
The lightweight wheelchair includes durable, pneumatic wheels suitable for use on any terrain, including grass, sand, rocks, and snow.
Designed and tested by canine orthopedic surgeons, the SitGo Dog Wheelchair lets both male and female canines relieve themselves during walks without making a mess.
With the newest launch, Online Pet Design continues to offer premium-quality products for animals with movement-inhibiting health issues and other disabilities.
Interested parties can find additional details at the above-mentioned website or at https://www.petdesignonline.com
Release ID: 88995551